Pumpkin Bread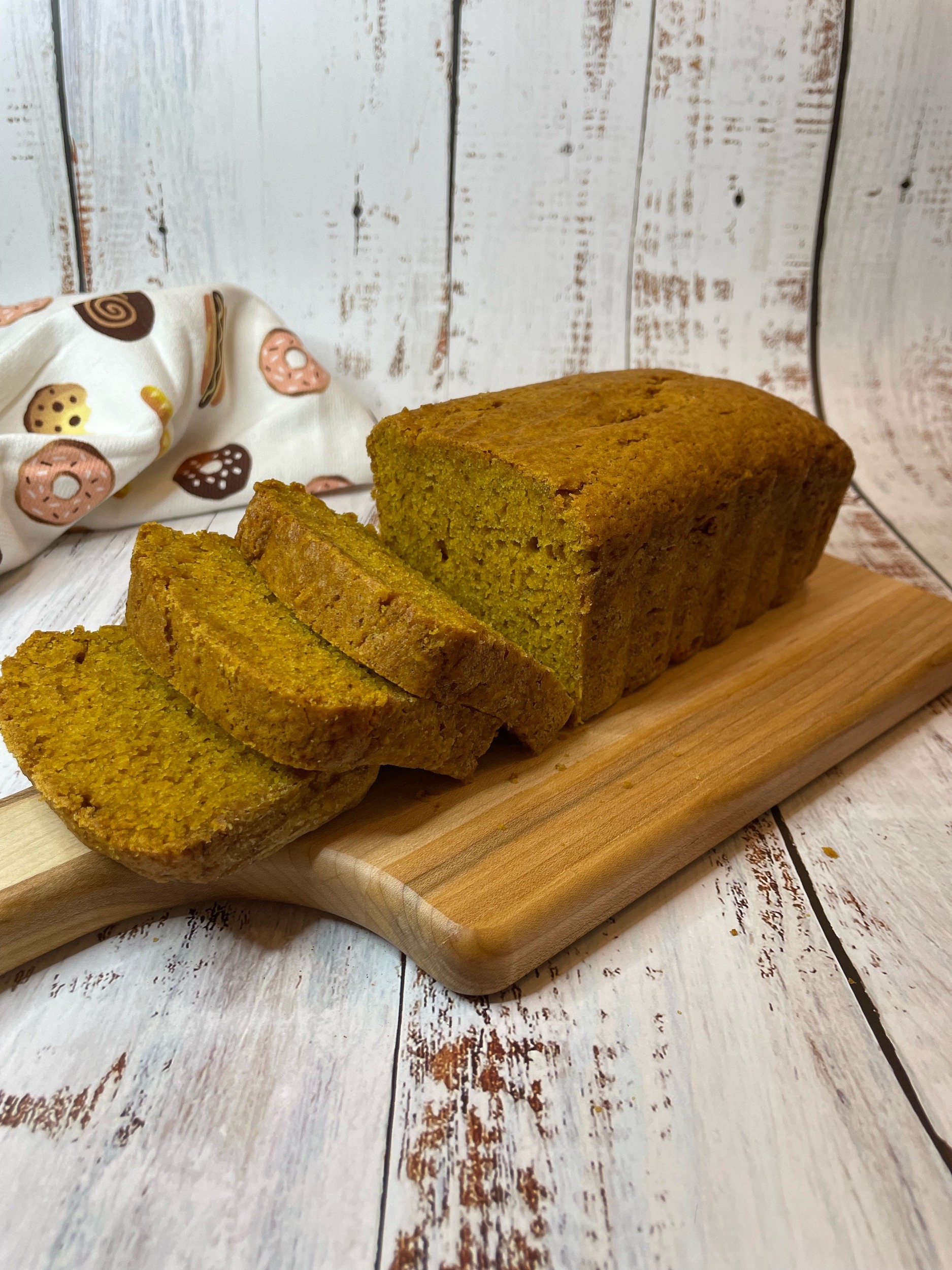 Fresh homemade pumpkin bread is a fall favorite in our house. Packed with warm fragrant spices and tons of pumpkin flavor these loaves will soon be a favorite in your house too. They are moist and tender with a bit of a crispy crust that gives them a little bit of texture.
Banana bread is a year round go to in my house, simply because we always have bananas around and sometimes they don't quite get eaten in time. Banana bread to the rescue. If it's not banana bread then my hummingbird loaf is another trusty and delicious loaf that uses up leftover (or going brown) bananas. You can find my recipe for hummingbird bread here.
But when fall rolls around and everything is crisp and fresh outside, nothing suits the season better than a flavorful and delicious pumpkin loaf. You don't need fresh pumpkin (though you could use fresh if you have access to pie pumpkins) a can of pumpkin puree is perfect for these loaves.
This loaf is so moist, it doesn't crumble like many loaves do and it has a nice little crust on top, for that something extra. If you don't like a crunch on top, you could always make a simple cream cheese frosting for the top. I made these loaves the other day and they disappeared quite quickly. My son said, "mom, you know you could put some cream cheese frosting on this and it would be really good."..my thoughts….thanks son, yes I know. But sometimes you want a nice loaf without all the fuss of an icing, but if you do want icing, then by all means go ahead. It works well here.
Freezing Pumpkin Bread
Pumpkin bread will last in the freezer for about 3 months. Once the loaves are completely cooled, wrap them individually and tightly with plastic wrap, then either wrap them again in aluminum foil, or put them in a freezer bag until needed.
Thaw the loaves overnight in the fridge until needed.
Pumpkin Bread
This delicious and simple pumpkin bread will have them all asking for more!
Equipment
2 4 x 8" loaf pans

Hand mixer

*or stand mixer
Ingredients
2

cups

all purpose flour

spooned and levelled to prevent packing the flour into the measuring cup.

½

tsp

baking powder

1

tsp

baking soda

½

tsp

salt

1

tsp

ground cinnamon

1

tsp

ground nutmeg

1

tsp

ground cloves

3/4

cup

unsalted butter, softened

2

cups

granulated sugar

2

large

eggs

1

15 oz can

pumpkin puree

(1 3/4 cups)
Instructions
Preheat oven to 350° with your rack in the middle

butter and flour your two loaf pans (or alternatively you can spray with a non stick spray then flour it. Make sure to pat out excess flour. Set aside

In a medium bowl, combine your flour, baking soda, baking powder, salt, cinnamon, nutmeg and cloves. Stir or whisk well to combine. Set aside

In a large bowl, beat the sugar and butter on medium until blended. Add the eggs one at a time beating after each egg. Beat the mixture until it becomes light and fluffy, this will take a few minutes. Add the pumpkin puree and beat again. If the mixture looks like it has separated don't worry, that will go away once you add the dry ingredients.

Slowly add the flour mixture and continue beating on LOW until combined. Scraping down the sides of the bowl as needed.

Divide the batter equally between the two loaf pans, smoothing out the tops as well as you can. Then place them in the preheated oven for 65 minutes (up to 70 minutes) until a tester inserted into the center, comes out clean.

Once they are done, remove them from the oven and set aside to cool for 10 minutes before turning the loaves out to cool completely on a wire rack.

If you can be patient let them cool completely before cutting into slices.

Wrap the cooled loaves in plastic wrap and they will last 3-4 days on your counter. Well, they could….but they won't! These delicious loaves will disappear very quickly but freeze well, so if you want one for later, put it in the freezer as soon as you can.
Notes
These loaves will freeze for up to 3 months.  Once completely cooled, wrap in plastic wrap and then a layer of aluminum foil, or a freezer bag.  Thaw overnight before serving.