Copycat Chopped Leaf Harvest Salad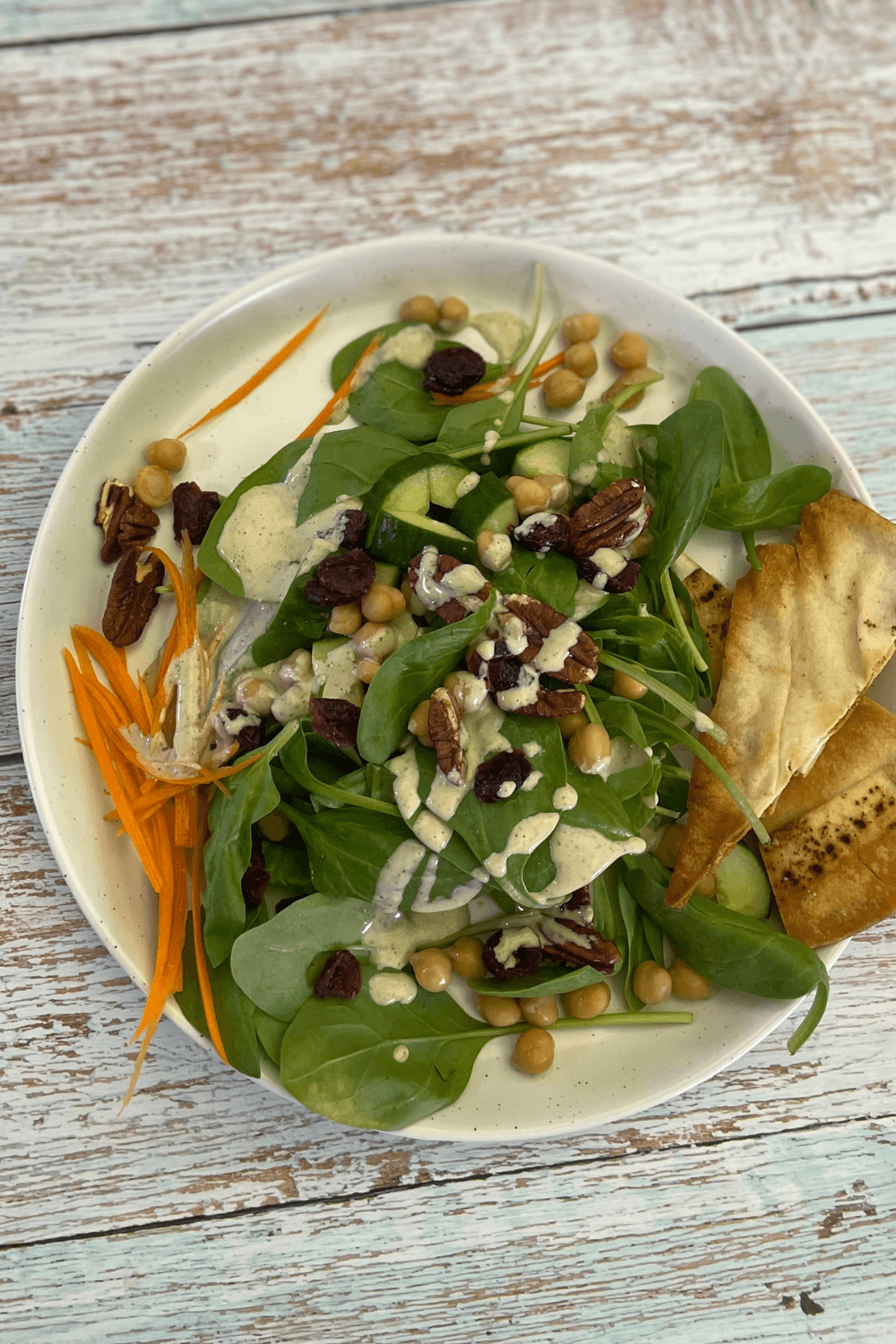 As the seasons change, there's something truly magical about enjoying a vibrant salad that captures the essence of the season. This copycat Chopped Leaf Harvest Salad is a testament to this. Bursting with autumnal flavors and a delightful medley of ingredients, it's a symphony of tastes and textures that makes every bite a celebration. Today, we're excited to share our own take on this seasonal favorite with a copycat recipe. Get ready to bring the flavors of Chopped Leaf's Harvest Salad right to your table, with a vegan twist!
The Splendor of Chopped Leaf's Harvest Salad
Before we dive into our recipe, let's take a moment to appreciate what makes the original Chopped Leaf Harvest Salad so special. This salad is a harmonious blend of:
Spinach: Fresh and vibrant, spinach forms the lush green base of the salad.
Candied Pecans: These sweet and crunchy delights add a delightful contrast to the salad's earthy flavors.
Dried Cranberries: Bursting with tartness and chewy texture, dried cranberries provide a burst of flavor.
Shredded Carrot: Adding a pop of color and natural sweetness, shredded carrot contributes a crisp element.
Chickpeas: Protein-packed chickpeas offer heartiness and nutty undertones.
Diced Cucumber: Cucumber's cool, refreshing crunch is a welcome addition to this vibrant mix.
Vegan Goddess Dressing: A creamy, herby dressing that ties all the ingredients together in perfect harmony.
Assemble the Chopped Leaf Harvest Salad:
Start with a large serving platter or individual salad bowls.
Begin by arranging the fresh spinach as the base.
Sprinkle candied pecans, dried cranberries, shredded carrot, chickpeas, and diced cucumber evenly over the spinach.
If you have some pita chips they make a nice addition to the salad.
Before serving, drizzle the Vegan Goddess Dressing generously over the salad. You can either toss the salad for an even coating or serve it with the dressing on the side for drizzling to taste.Drizzle with Vegan Goddess Dressing: You can find the recipe for it here
With this copycat Chopped Leaf Harvest Salad recipe, you can bring the magic of this seasonal favorite right to your own table, all while keeping it vegan. Each bite is a celebration of autumn's bounty, a delightful blend of sweet, savory, and crunchy elements, all tied together with the creamy, herby embrace of the Vegan Goddess Dressing. Whether as a main course or a stunning side dish, this salad is sure to please your palate and add a touch of autumnal joy to your meals. So, prepare your ingredients and savor the taste of the harvest season with this delightful salad.
Copycat Harvest Salad
A copycat version of the Harvest Salad a Chopped Leaf….a delicious vegan salad
Equipment
1 small frying pan, to candy the pecans

2 individual bowls for serving
Ingredients
4

cups

fresh spinach leaves

washed and dried

½

cup

candied pecans

*see notes for instructions on how to candy your own pecans

2

Tbsp

brown sugar (for the pecans)

½

cup

chickpeas, drained and rinsed

¼

cup

dried cranberries

1

large

carrot, washed, peeled and shredded

1

cup

cucumber, diced
for the Goddess Dressing
⅓

cup

tahini

½

cup

fresh squeezed lemon juice

1

Tbsp

soy sauce

2

Tbsp

olive oil

3

Tbsp

water

1

clove

fresh garlic, minced

1

Tbsp

fresh parsley, chopped

*see notes below

1

Tbsp

fresh dill, chopped

1

Tbsp

fresh chives, chopped

½

small

shallot, minced fine

salt and pepper to taste
Instructions
On each plate, place 2

4 cups fresh spinach leaves

(half), 1/2

1 cup cucumber, diced

See next step for presentation.

You can toss everything together then add the Vegan Goddess Dressing (see above for recipe) or you can place each salad ingredient around the plate to circle the spinach for a nicer presentation, then drizzle with the dressing in a zig zag pattern.
to make the dressing:
add all of the ingredients to a blender and blend until combined

Serve immediately with extra dressing on the side.
Notes
You can serve this salad with your favorite dressing or make and use the vegan goddess dressing that is similar to the one Chopped Leaf uses.  The link to the recipe for that is in the post.
To Candy the pecans, place a small pan on med heat with the pecans in it,  add about 2 T of brown sugar and stir/toss until the sugar melts and coats the pecans and you can smell the aroma of toasted nuts.  Be careful not to burn the nuts.
*If you want you can use freeze dried salad herbs (I use lighthouse brand) instead of the fresh ones, they will rehydrate very quickly in the dressing.