Vegan Goddess Dressing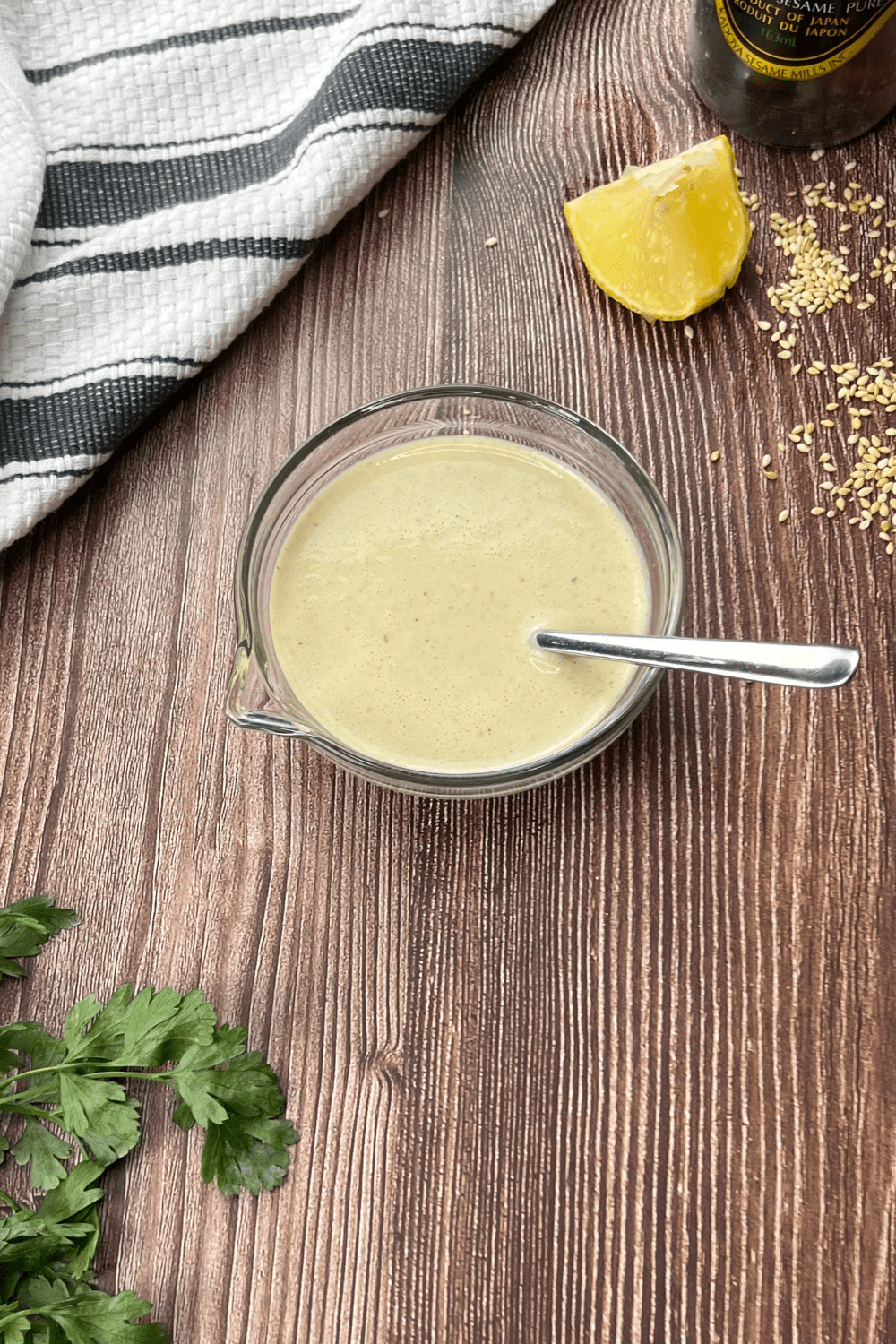 Vegan Goddess Dressing is a luscious and dairy-free version of the classic Green Goddess Dressing. Bursting with fresh herbs, creamy tahini, and zesty lemon, it's a flavorful addition to your vegan dishes. This versatile dressing can be used as a salad dressing, drizzled over roasted vegetables, as a dip, or as a flavorful sauce for pasta, wraps and sandwiches.
Vegan Goddess Dressing might sound like a relatively new addition to the world of salad dressings, but its roots trace back to the 1970s in California. Created at the legendary Good Earth restaurant in California, this dressing was initially made with dairy-based ingredients. However, as the world shifted towards more compassionate and sustainable dietary choices, the recipe transformed into the vegan delight we know today.
If you want to try another delicious salad dressing try my homemade ranch dressing. It's not vegan, but it IS delicious.
Uses for Vegan Goddess Dressing:
This Vegan Goddess Dressing is versatile and can elevate a variety of dishes:
Salad Dressing: Drizzle it over your favorite salads, whether it's a simple garden salad or a hearty grain bowl.
Veggie Dip: Serve it as a dip for fresh vegetables like cucumber, carrots, celery, and bell peppers.
Wrap or Sandwich Spread: Use it as a creamy and flavorful spread for wraps, sandwiches, and burgers.
Roasted Vegetable Glaze: Drizzle it over roasted or grilled vegetables like broccoli, cauliflower, or asparagus for a burst of flavor.
Bowl Sauce: Add it to your Buddha bowls or grain bowls for extra creaminess and herbaceous goodness.
Pasta Sauce: Toss it with cooked pasta for a delectable pasta salad or as a quick pasta sauce.
Enjoy the vibrant flavors and versatility of this Vegan Goddess Dressing in your plant-based dishes!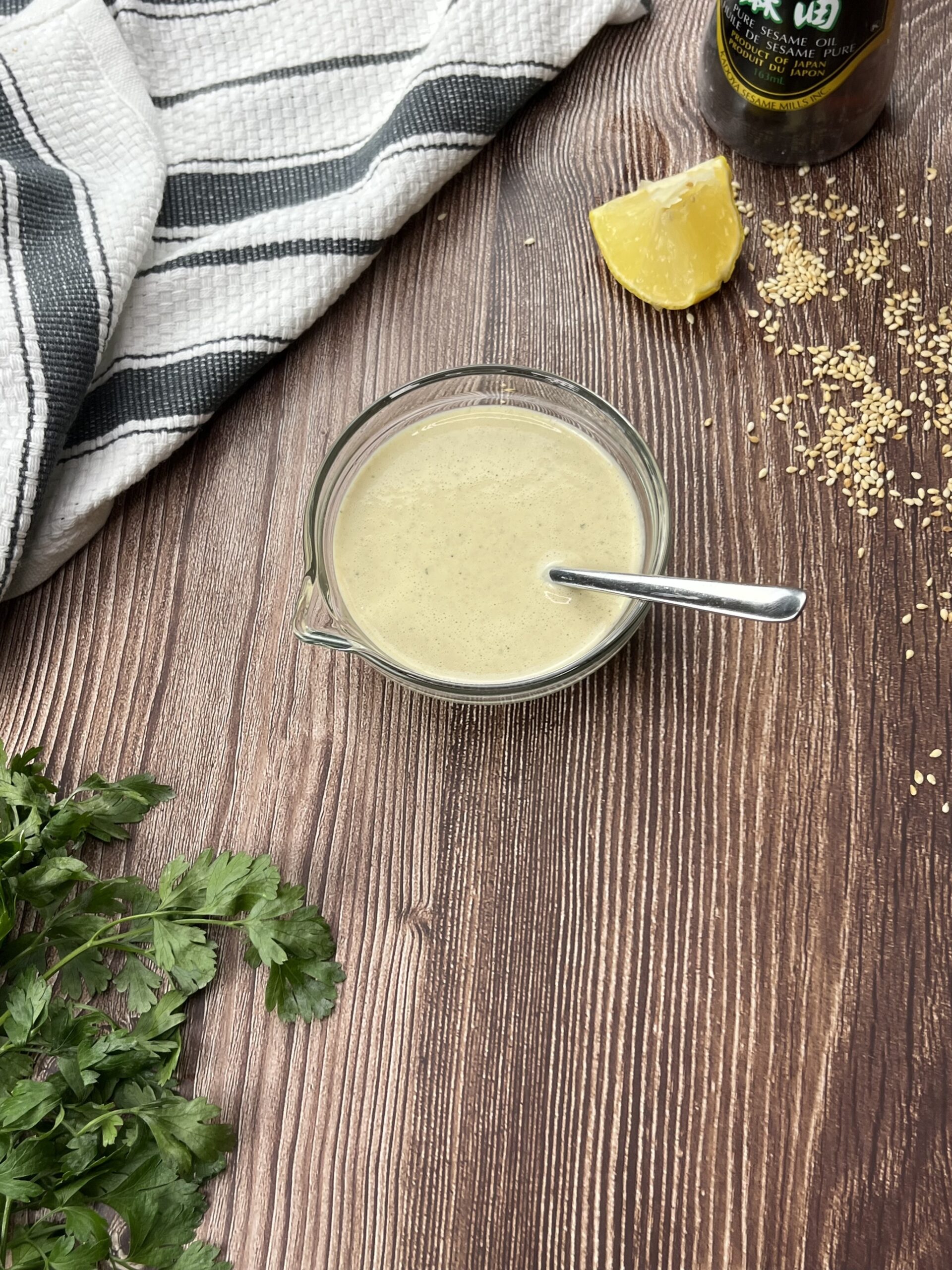 Vegan Goddess Dressing
This tahini based Vegan Green Goddess Dressing is a creamy and flavorful dressing that's perfect for salads, drizzling over roasted vegetables, or serving as a dip
Equipment
1 bowl

1 whisk

1 food processor or magic bullet or blender

*instead of bowl, this can be made in a blender
Ingredients
⅓

cup

Tahini

½

cup

freshly squeezed lemon juice

1

Tbsp

soy sauce

2

Tbsp

olive oil

1

tsp

sesame oil

3

Tbsp

water

1

clove

fresh garlic, minced

1

Tbsp

fresh parsley, chopped

*see note

1

Tbsp

fresh dill, chopped

*see note

1

Tbsp

fresh chives, chopped

*see note

½

small

shallot, chopped find *optional

¼

tsp

Salt and pepper to taste
Instructions
Bowl Method:
add all of the ingredients to a bowl, whisk to combine and refrigerate until ready to use.
Blender Method:
add all of the ingredients to the jar of your blender and blend for about 30 seconds to combine. Longer blend time will yield a thicker dressing if that's what you want.
Notes
If you're looking for a copycat version of Chopped Leaf goddess dressing then reduce or omit the fresh herbs in this recipe.  Alternatively, you can reduce the herbs to suit your taste and omit any you don't like.  
To make life easier, I often use a store bought herb blend made by lighthouse that is called Salad Dressing Herb Blend.  It contains all of the herbs in this recipe plus a couple more.  They are freeze dried (not dehydrated) so they instantly refresh in your recipes. It is very convenient especially when you don't have fresh herbs on hand and don't want to go buy a bunch of each variety for a simple dressing.