Baked Potato Casserole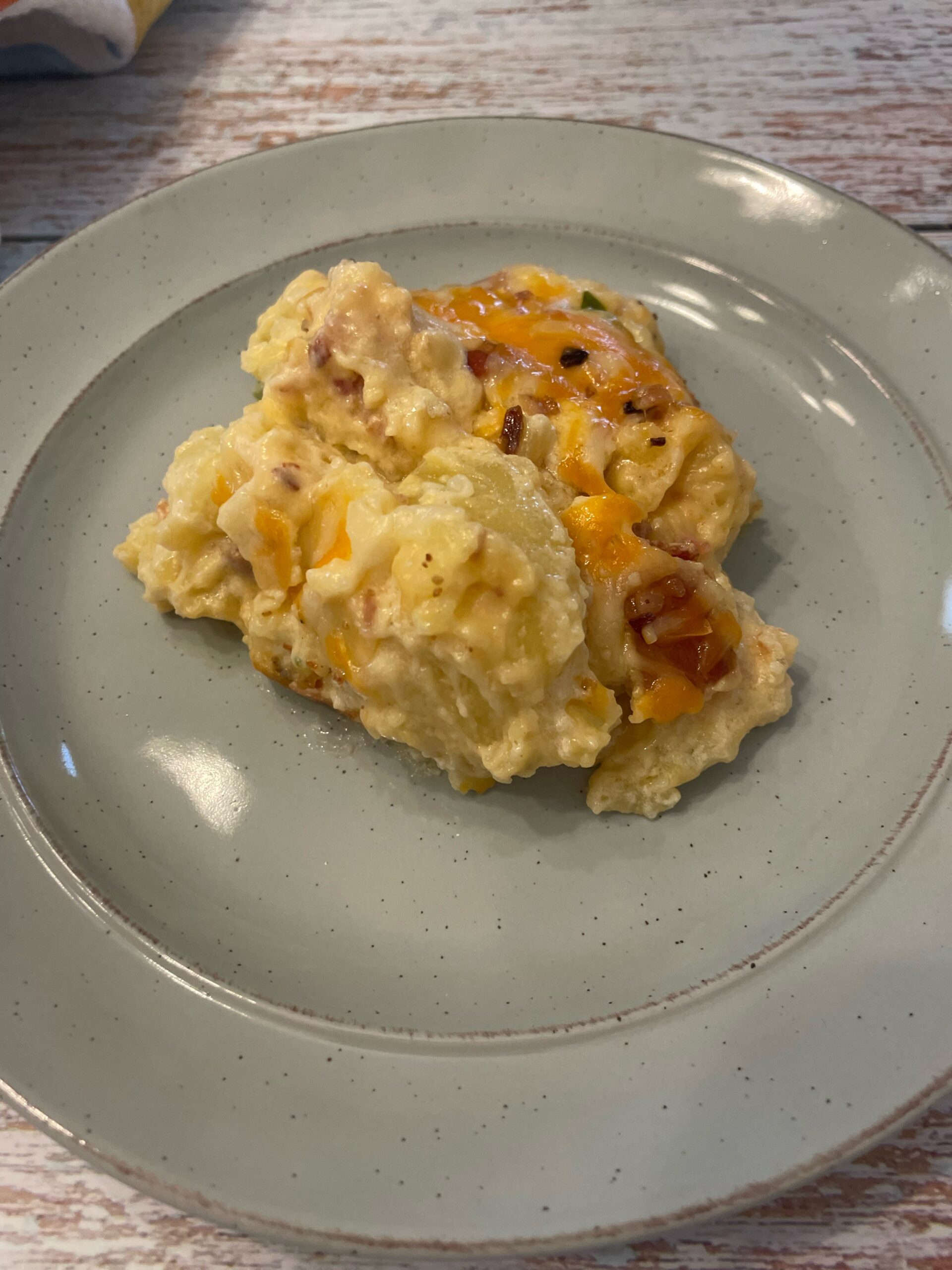 When it comes to comfort food, few dishes can rival the warm, cheesy, and oh-so-satisfying goodness of a Baked Potato Casserole. This classic dish takes the humble potato to new heights, transforming it into a creamy, flavorful masterpiece that's perfect for any occasion. Whether you're looking for a hearty side dish for a family gathering or a comforting meal on a chilly evening, this recipe is sure to hit the spot.
If you're in a rush, feel free to make this "baked potato casserole" with boiled potatoes, just make sure they are not overcooked. Once they are done and drained, continue with the recipe from that point. If you do decide to bake them, then if you don't want to waste the potato skins, try my baked potato skins recipe (they freeze well) here.
What you need for baked potato casserole:
For this recipe you will need some pretty standard kitchen staples. Nothing fancy here.
potatoes – Russet or Yukon gold potatoes are both delicious. I find that the russets are a bit dried and what I usually use for Baked Potatoes, so that's the one I usually use. Use what you have, no point in buying a different type if you've already got some. Look for medium or large sized potatoes just to make less work. You're going to be baking them skin on anyway.
olive oil – my go to, but if you don't have it don't worry, we won't be using the skins in this recipe anyway. However, if you want to save the skins (and a bit of flesh) for something like loaded potato skins, then definitely use olive oil.
kosher salt – to season the baked potatoes.
bacon – you will need this for the inside of the casserole as well as the topping. I prefer to bake my bacon as it keeps it's shape and doesn't shrink as much as frying it. Let cool and crumble.
shredded sharp cheddar cheese – Use whatever cheese or cheese blend you have on hand. Pick your favorite. sour cream – this gives the casserole a super creamy texture.
Sour cream – full fat is best.
Butter, melted
green onions – adds a nice freshness to the recipe.
salt and pepper – to taste.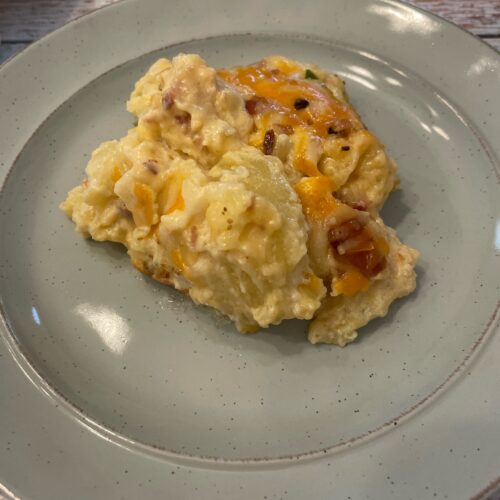 Baked Potato Casserole
The perfect side dish for a pot luck dinner or anytime, this cheesy, creamy baked potato casserole tastes as good as a perfectly baked potato! It is comfort food in a pan!
Ingredients
8

med-lg

Russet potatoes

or whatever kind you have

2

Tbsp

extra virgin Olive Oil

1

Tbsp

Kosher salt

½

lb

bacon, cooked crisp and crumbled

1

cup

sharp cheddar cheese, shredded

¼

cup

butter, melted

¾

cup

sour cream

4

med

green onion, sliced thin

Salt and pepper to taste
Instructions
preheat oven to 400℉ if you are baking the potatoes. Rub them with olive oil and salt, bake until tender 50-60 min. Reduce oven temp to 350℉ when they're done.

If you are boiling the potatoes, then peel and boil as you would for mashed potatoes being sure not to over cook them, drain and then continue.

Cut the potatoes in half and scoop out the potato flesh and put the cooked potatoes into a large bowl and add give them a rough mash so there are still some chunks but the potatoes are largely mashed.

Add the cheese, bacon bits, butter, sour cream and mix to combine.

season with salt and pepper to taste.

Transfer to a casserole dish and top with a bit of extra cheese if you like.

Bake until the cheese is completely melted. Remove from oven and sprinkle green onions on top for serving.
Notes
You can use boiled potatoes if you don't want to go through the process of baking them.  Just make sure not to over cook them, and also make sure to cut them into bigger pieces before you boil them, then mash them down leaving some chunks before adding all of the other ingredients.
This casserole is make up of two pretty simple steps. First you bake the potatoes, second, you take the potato pulp and combine it with all of the goodies, then bake it into submission. Top it off with some fresh vibrant green onions when you serve it.