The Easiest Banana Bread
Banana bread is a classic, beloved treat that never goes out of style. It's a fantastic way to use up those overripe bananas sitting on your kitchen counter, and its sweet, comforting aroma while baking is enough to make anyone's mouth water. The best part? You don't need to be a master baker to whip up a delicious loaf of banana bread. So, grab those brown bananas and let's get started!
This recipe is the easiest banana bread recipe I have ever made. It's simple and straight to the point and results is a beautiful, moist and tender loaf of banana bread that's perfect every time.
What you'll need:
2 to 3 large or 4or 5 small, overripe bananas
1/2 cup melted butter
1 teaspoon baking soda
A pinch of salt
3/4 cup granulated sugar
2 large eggs, beaten
1 teaspoon vanilla extract
1 1/2 cups all-purpose flour
What to do:
Start by creaming the butter and sugar, then add the mashed banana, eggs and vanilla and combine. In a separate bowl, combine the dry ingredients. Bring everything together and combine without over mixing. Then pour batter into your prepared loaf pan (oil and flour) and bake for a full hour at 350 degrees F. It really is that sinple.
Try some variations:
If you're like me and you love a good sweet bread, then try some of my other recipes as well. You can find the recipe for my Hummingbird loaf here. It's a cross between a banana bread and carrot cake, and oh so delicious. Or if it's fall and you want something seasonal, try my delicious pumpkin bread you can get the recipe here.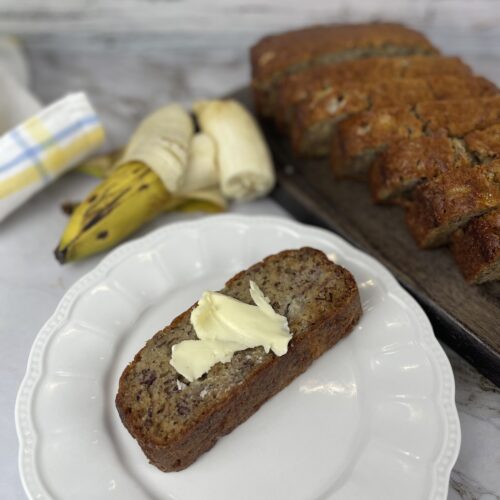 The Easiest Banana Bread
This easy banana bread is moist, tender and delicious. It will become a favorite recipe
Ingredients
½

cup

butter, softened

¾

cup

granulated sugar

2

lg

eggs

1

tsp

vanilla

3-4

lg

bananas (ripe), mashed with a fork

1

tsp

baking soda

1½

cups

all-purpose flour

½

tsp

salt
Instructions
spray or oil the loaf pan, then add 1 T flour and tap to spread it around, tip out excess.

in a medium bowl, cream the

½ cup butter, softened

and

¾ cup granulated sugar

together with hand mixer.

add in

2 lg eggs

, and

1 tsp vanilla

and mashed bananas, stir to combine

In another bowl, combine

1½ cups all-purpose flour

,

1 tsp baking soda

, and

½ tsp salt

Add the dry ingredients to the wet ingredients and stir to combine, don't over mix

pour mixture into prepared loaf pan and spread evenly

Bake in preheated oven for 55-60 minutes, check for doneness until a toothpick inserted into the center comes out clean. This can take up to 65 minutes, depending on your oven.

Remove from oven when done, let it sit in the pan for 10 minutes, before removing to a wire rack to cool.

Cool completely before slicing.

Feel free to add toasted nuts, raisins or chocolate chips to the finished batter if you like (about ½ cup or to your liking)
Notes
A very simple but delicious banana bread.  Why complicate things!!
How to Store Banana Bread:
Storing banana bread properly is essential to maintain its freshness, moisture, and flavor. Here's a simple guide on how to store banana bread to ensure it stays delicious for as long as possible:
Cool It First: Allow your banana bread to cool completely before attempting to store it. If you wrap or store it while it's still warm, it can create condensation, which can lead to sogginess.
Wrap It Airtight: The most effective way to keep banana bread fresh is to wrap it airtight. You can use plastic wrap, aluminum foil, or a resealable plastic bag. Make sure there are no gaps or openings in the wrapping to prevent air from getting in. You can even double-wrap it for extra protection.
Use Parchment Paper: Placing a sheet of parchment paper between the banana bread and the wrapping can help prevent it from sticking to the wrap, which can cause the crust to become mushy.
Tin or Container: Another option is to store your banana bread in an airtight container. Choose a container that is just the right size to minimize air inside. You can line it with parchment paper to prevent sticking.
Room Temperature: If you plan to consume your banana bread within a day or two, it's perfectly fine to store it at room temperature in an airtight container. Just keep it away from direct sunlight or excessive heat, which can cause it to dry out.
Refrigeration (for Longer Storage): If you want to store banana bread for an extended period, the refrigerator can be used. However, this can potentially dry it out a bit, so proper wrapping is crucial. Place it in an airtight container or wrap it well and store it in the fridge for up to a week.
Freezing (for Extended Storage): Banana bread can be frozen for longer-term storage. Wrap it tightly in plastic wrap or aluminum foil, then place it in an airtight freezer bag. Ensure that it's airtight to prevent freezer burn. When stored in the freezer, banana bread can stay fresh for up to three months. You can also cut it into slices and freeze the slices individually. I like to wrap one or two together, then put them all into a large freezer bag, then I can just grab a couple slices at a time when needed.
Thawing: When you're ready to enjoy your frozen banana bread, simply remove it from the freezer, unwrap, and let it thaw at room temperature for a few hours or overnight in the refrigerator. This will help preserve its moisture and flavor.
Remember, banana bread is at its best when it's freshly baked. Storing it properly can extend its shelf life and preserve its taste and texture. Whether you choose to store it at room temperature, in the refrigerator, or in the freezer, always ensure it's well-wrapped and airtight for the best results.
.