Borscht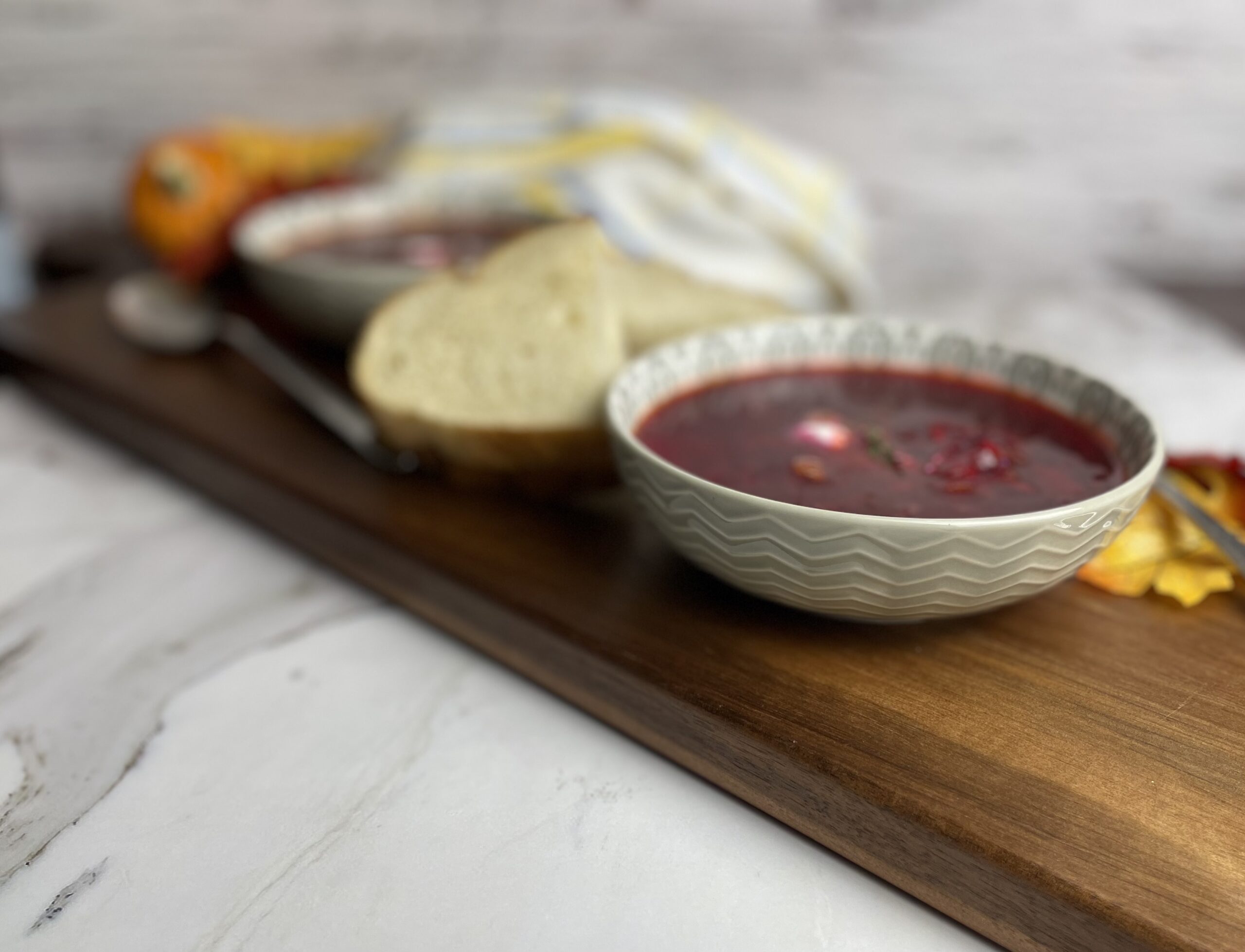 In the world of comfort foods, few dishes can rival the rich and vibrant allure of borscht. This iconic soup, with its roots deeply embedded in Eastern European cuisine, is not just a meal; it's a cultural experience. It is a. sour soup usually made with a meat stock, vegetables (especially beets) and seasonings. It is characteristically made with beets as a primary ingredient, has a history as colorful as its vibrant hue. Its origins can be traced back to Ukraine, where it emerged as a staple in the 9th century.
As i have said many times before, I am not Ukrainian, but my brother married a Ukrainian girl and my mom learned many recipes from her mom. Many of which my family and I still make and enjoy. In the fall when there are plenty of fresh beets being harvested is the best time to make borscht, but you can make it anytime. It's a hug in a bowl. We serve it with a dollop of fresh sour cream and some extra dill on top alongside a crusty bun or bread it makes a complete and filling meal.
What gives borscht its distinct character is its blend of ingredients, each contributing to the symphony of flavors. Beets, the star of the show, impart both a sweet and earthy undertone. Other vegetables like carrots, onions, and cabbage add layers of texture and taste. The broth, often based on meat or vegetable stock, is infused with garlic, dill, and usually splash of vinegar for that perfect balance (some prefer to use lemon) and tartness.
Just as there are different languages and traditions across Eastern Europe, borscht has its regional variations. Ukrainian borscht might include a hefty dose of garlic and be served with a dollop of sour cream, while Russian borscht might favor a heartier broth with the addition of meat, like beef or pork. In Poland, you might find a white borscht made with sourdough and seasoned with marjoram.
Beyond its delectable taste, borscht comes packed with health benefits. Beets, a primary ingredient, are a nutritional powerhouse. They are rich in vitamins, minerals, and antioxidants. Additionally, borscht often includes a variety of vegetables, contributing to its high fiber content and making it a nourishing choice for those looking to maintain a balanced diet.
Borscht isn't just a soup; it's a cultural symbol. It has been woven into the fabric of Eastern European traditions, with variations and family recipes passed down through generations. In many households, preparing and sharing borscht is an expression of love, warmth, and hospitality.
The rich red color of this hearty soup is not just visually striking; it carries cultural and symbolic significance. In Ukrainian folklore, red symbolizes joy, prosperity, and the beauty of life. As borscht is often served during celebrations and special occasions, its red hue becomes a representation of these positive sentiments.
To enhance the flavor of the Borscht:
You can make your stock from scratch by first browning a nice piece of beef (shank or stew beef) then add a few aromatic veggies, like onion or shallots, then add store bought beef broth (or water) and simmer until the meat is falling off the bone tender about 90 minutes, then strain and use that broth for the borscht. Discard the bone.
If you have an instant pot, you can add your beef and bones to the IP add water or broth to the max line and let it come to pressure for 30 minutes minimum and you will have a good beef broth as well.
You can also roast your vegetables, especially the beets, carrots and potatoes to enhance the flavor. Peel and chop the veggies to a uniform size, then drizzle with olive oil and spread out on an sheet pan, add salt and roast for 15 minutes in a preheated 425 degree F oven.
These methods will yield a richer flavor, but in all honesty if you don't have the time or don't feel like the extra work, a really good beef broth with make a delicious borscht in way less time with way less effort and it is delicious.
I love my instant pot, and if you choose to make some broth in the IP and don't have one yet. Below is the one that I have and love. As well as a good dutch oven. the one I use is there as well.
This post may contain links, as an Amazon Associate I may earn from qualifying purchases at no extra cost to you.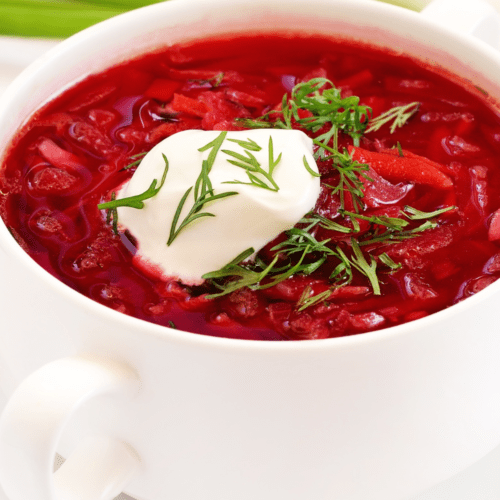 Borscht
This traditional Ukrainian Borscht recipe is one that my mom taught me to make many years ago and it is so flavorful and easy to make.
Equipment
1 Large Dutch oven

or heavy bottomed stock pot
Ingredients
3

Tbs

bacon fat (or oil of choice)

1

med

onion, diced small

3

ribs

celery, diced small

1

tsp

kosher salt, divided

3

tbsp

tomato paste

10

cups

Beef Broth (homemade or store bought)

3

large

Beets, peeled and grated or julienned

*You can use a food processor

2

medium

potatoes, peeled and diced small

* I used mini creamer potatoes cut into ¼'s

1

clove

fresh garlic, minced

¼

head

cabbage, shredded with a knife

* my preferred method

4

Tbsp

white vinegar

¼

cup

fresh dill, measure after chopping fine

*plus more for garnish

1

tbsp

black pepper

1

tsp

kosher salt

Sour Cream (for serving-Optional)
Instructions
In your dutch oven over med-hi heat, add the bacon fat or oil of choice.

Once it is hot, add the prepared onions, carrots and celery and 1 Tsp kosher salt and cook until the onions are translucent.

Add the tomato paste and cook for a further minute.

pour the beef broth into the pot, stirring until the tomato paste has dissolved.

Add in the shredded cabbage, shredded or julienned beets, minced garlic and the diced potatoes, cover and let simmer for 20-30 minutes until the potatoes are fork tender.

once the potatoes are cooked, add the vinegar, chopped dill, black pepper and taste for additional salt. Add it if needed.

Simmer for an additional 5 minutes then taste to see if seasoning needs to be adjusted. You can add a tsp of sugar, or more vinegar if needed. Also salt and pepper to your taste.

Serve the borscht with a dollop of sour cream and a sprig of fresh dill on top
Notes
This is a very traditional recipe and one that has been in my family for many years.  If you're like me and you make stock from scratch then feel free to use your homemade beef stock in place of store bought.  It intensifies the flavor but isn't necessary as long as you use a good quality beef broth or stock.