Butternut Squash & Ginger Soup
As the days grow shorter and the air turns crisper, there's nothing quite like a warm bowl of butternut squash & ginger soup to comfort the soul and tantalize the taste buds. This is one recipe that captures the essence of autumn. This delightful concoction combines the rich, nutty flavor of butternut squash with the warm, aromatic notes of ginger, creating a harmonious symphony of tastes that is both soothing and invigorating.
Fresh ginger, ground ginger and a bit of curry powder turns sweet rich butternut squash into a journey for your tastebuds. The subtle ginger and curry complement the sweet butternut squash and together they are delicious and comforting.
Ginger has so many health benefits adding it to this soup was a no-brainer. I love soup and I am always looking for new and exciting soups to bring to the table. It's chilly here today, so I decided to spice up my regular butternut squash soup with a kick of fresh and dried ginger. The addition of curry powder is completely optional, so add it or don't, it's totally up to you.
There is a small amount of heavy cream in this butternut squash & ginger soup, which just adds to the decadence of the soup itself. If you don't have heavy cream, you can substitute sour cream or creme fraiche (or even plain Greek yogurt).
Serve this soup with a nice slice of crunchy bread or a crusty roll for a complete meal. If you want it spicy, add a few pinches of roasted red pepper flakes.
Garnish with a little extra cream for a spectacular and impressive presentation. If you love a hearty fall soup then why not give my New England Clam Chowder a try. You can find the recipe here
I love my dutch oven for making all kinds of dishes, but especially for soups. Here is the one that I have and love.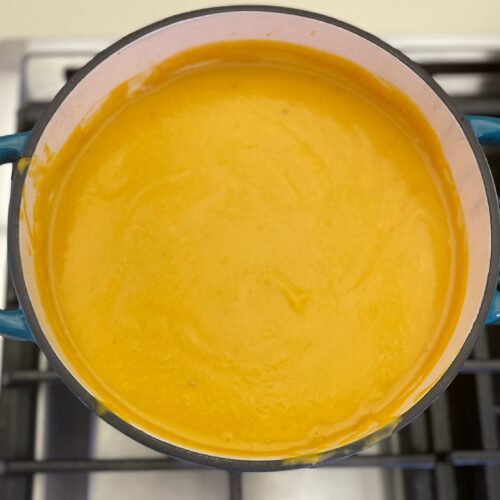 Butternut Squash & Ginger Soup
This creamy and delicious soup is comfort in a bowl! With a hint of ginger and mild curry you'll want two bowls!
Equipment
1 Heavy bottom saucepan

1 1/2 sheet tray

1 stick blender (preferred)

* you can use a blender or food. processor if you don't have a stick blender.
Ingredients
2-3

med

butternut squash

*3 lbs total after roasting

½

head

garlic, roasted

1

Tbsp

fresh ginger, grated

½

large

onion, diced

1

tsp

dried ginger

2

tsp

kosher salt, divided

*more to taste if desired

1

tsp

freshly ground black pepper

1

Tbsp

mild curry powder (optional)

1

Litre

chicken stock

½

cup

heavy cream

3

Tbsp

olive oil, divided
Instructions
Prepare your butternut squash and garlic head for roasting

Wash

2-3 med butternut squash

and then cut in half lengthwise, clean out the seeds, then drizzle with 1 Tbsp olive oil and 1 tsp salt and roast in a 400℉ oven, cut side down, for 50 minutes until tender.

place half a head of garlic (or the whole head if desired-save half for another purpose) on a piece of aluminum foil and drizzle with olive oil and a bit of kosher salt. Seal to make a packet and put it in the oven with the squash and roast for 20 minutes, remove to cool, then squeeze out the garlic pulp and set aside.

Once the squash is cooked, remove from oven and let it cool until it is cool enough to handle, then peel off the skin and cut into large chunks.

Put your dutch oven on the stovetop and add 2 T olive oil over med-hi heat

Once the oil is hot, add the onions and 1 tsp kosher salt and cook until the onions are translucent. Add the ginger powder and curry powder if using and cook for 1 minute.

Add the roasted garlic and the

1 Tbsp fresh ginger, grated

and cook for a further minute or two, until the ginger becomes fragrant.

add the

1 Litre chicken stock

and stir to combine. Then add the roasted and cut butternut squash pieces.

Using a stick blender, puree until the soup is smooth and creamy (If you do use a regular blender, be careful when pureeing hot liquids, always do smaller batches and transfer to a bowl and alway allow the steam to escape by covering the hole at the top with a kitchen towel or cloth. Start on lowest speed and then increase so you don't get an explosion)

add in the

½ cup heavy cream

and

1 tsp freshly ground black pepper

, stir, let simmer for 10 minutes for flavors to combine.

Taste for seasoning and add Kosher salt and black pepper to taste. (the amount you need will depend on the salt level of your stock).