Chicken Noodle Soup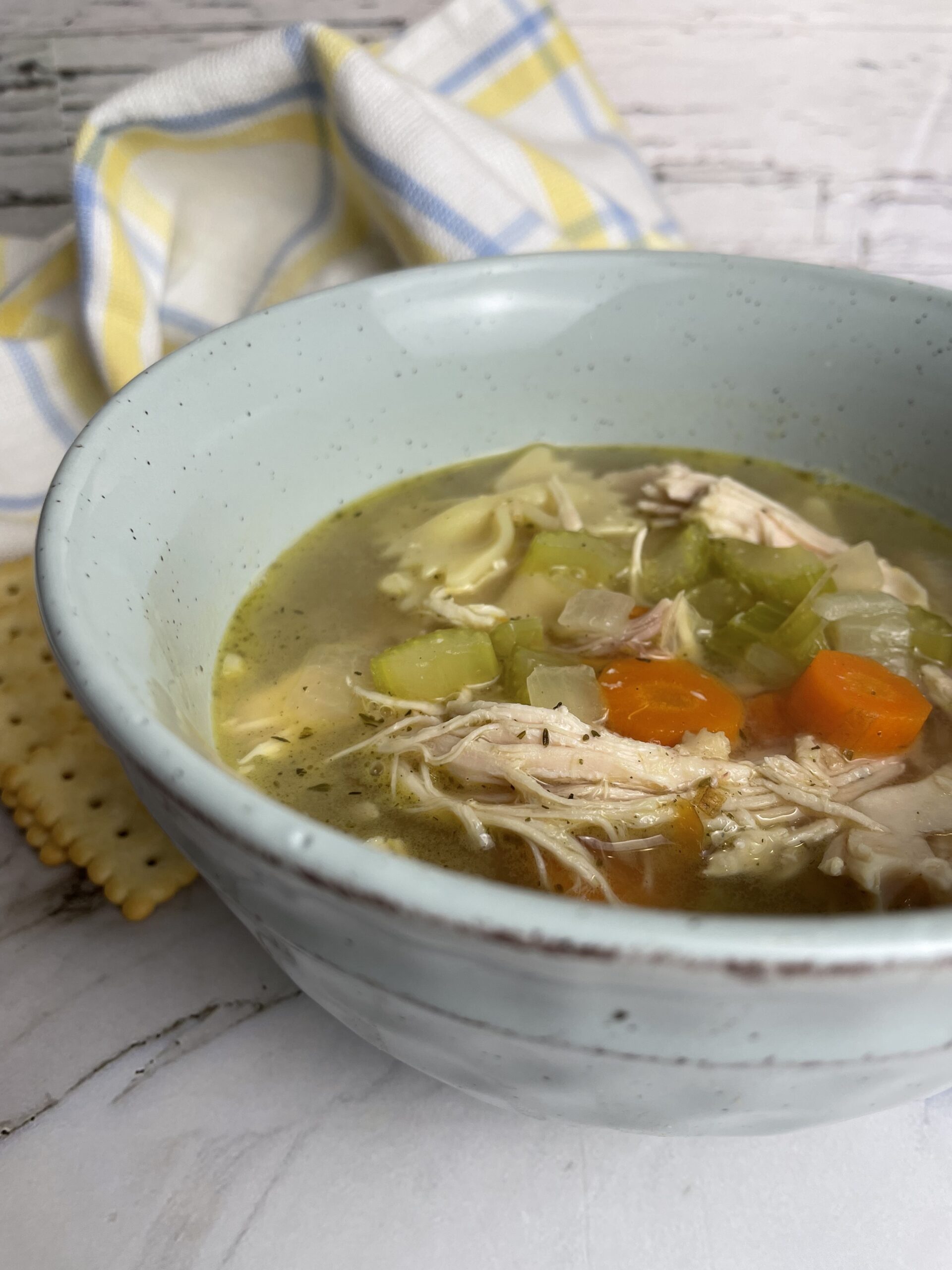 Savor the heartwarming comfort of this delicious chicken noodle soup! Made simple with flavorful rotisserie chicken, wholesome vegetables, and your noodle of choice. This soup is a bowlful of warmth and flavor. Whether you're seeking a cozy meal or a comforting remedy, indulge in the ultimate comfort food with our hearty chicken noodle soup. Taste the goodness in every spoonful!
This post may contain links, as an Amazon Associate, I may earn from qualifying purchases at no extra cost to you.
Making your own chicken noodle soup is much easier than most people expect that it will be. With the use of a rotisserie chicken it's even easier.
Storing Chicken Noodle Soup:
If you think you'll be eating the soup within the next couple of days then I recommend that you store chicken noodle soup in the same pot you cooked it covered with the lid, or transfer to an to an airtight container It will stay good in the fridge for up to 4 days. I recommend pulling out some of the noodles and cooking fresh ones if you don't plan on eating the soup within the first day. When sitting for days in broth, the noodles absorb a lot of the broth and can become mushy. If you don't mind mushy noodles, then by all means leave them in.
If you're want to freeze it for another time, then I recommend you pull out the noodles prior to freezing otherwise they will absorb all of the delicious broth and become mushy when you do want to thaw and eat the soup. If I am freezing soup like this, I like to freeze it in individual portions so that I can grab out as many as I need. I use a souper cube and it makes my life so much easier. You just fill each reservoir with the soup, cover and freeze, then once it is frozen solid, I pop out each "soup cube" and store them in a freezer safe ziploc bag so that I can re use my souper cube. The link to the ones I use is below.
If you are a soup lover like me then you might want to try some of my other delicious soups:
The airtight containers that I love and use are like the ones below.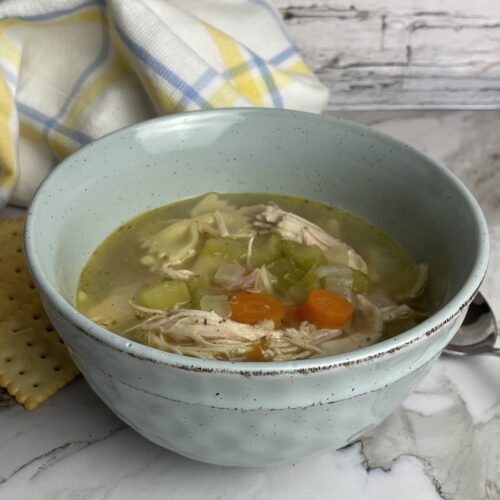 Chicken Noodle Soup
A classic homemade chicken noodle soup made with rotisserie chicken for a quick, easy and delicious meal.
Equipment
1 heavy bottom dutch oven or pot
Ingredients
½

med

white onion, diced small

2

med

carrots, peeled and sliced small

2

celery stalks, diced small

1

sprig, fresh thyme

8

cups

chicken broth or stock

Kosher Salt & freshly ground pepper *to taste

2

Tbsp

olive oil

Leftover rotisserie chicken, shredded

1

cup

pasta of choice *see notes

2

Tbsp

Better than bouillon (or alternative)

1

tsp

Poultry seasoning (Optional)
Instructions
Prepare all of the veggies first

In a heavy bottomed dutch oven or pot, add the olive oil and heat over medium heat.

Once the oil is hot add the vegetables and saute until the onions are translucent, about 5 minutes. Season them with kosher salt and freshly ground black pepper to your taste.

Add the chicken stock, (store bought or your own homemade), bouillon and the thyme and taste for seasoning. Add the poultry seasoning if using.

Add the pasta, Let it simmer for 15 minutes
Notes
If you want to freeze any leftover soup, I recommend removing the pasta noodles before you do, otherwise they will absorb all of the broth and become mushy. 
If I am making this soup to freeze then I do not bother with the noodles at all.  When I am ready to serve the soup, I cook noodles separately then add them to the soup just before serving.
You can use fresh chicken in this recipe rather than rotisserie.  If using chicken breasts then dice them into bite sized pieces and put them in some of the broth to poach on simmer for 15 minutes before starting the recipe, then add just as you would rotisserie chicken.  Alternatively you can poach a whole breast or two, then shred them once they've cooled.