Hot Chocolate Cookies
If you are a hot chocolate lover, then these hot chocolate cookies will absolutely knock your socks off! They really do taste like hot chocolate (maybe that's because there is instant hot chocolate powder in them) and when they are warm they are even more delicious, if that is even possible.
This post may contain links to products, as an Amazon Associate I may earn from qualifying purchases at no extra cost to you.
If you can get your hands on the mini dehydrated or freeze dried marshmallows then I highly recommend them. You can find the link to them on Amazon below. If you don't want to buy a big expensive bag then I suggest you buy hot chocolate mix that already has the mini marshmallows in it. I'm not sure how many marshmallows are in a box, and the recipe calls for one cup, but to be honest any amount of marshmallow is enough for these cookies, they don't have to be loaded and you could also opt for just putting 3 or 4 of them on the tops of the cookies before baking. This way you get the hot chocolate look without the added sweetness of too many or an inconsistent number of marshmallows in each cookie.
These are a Christmas must have cookie for my family as well as for any cookie boxes or trays that I do and would be great for an annual cookie exchange too! Every year I host a Christmas scavenger hunt for my family and a few neighborhood friends. We meet at a specific spot and then I give every team (in cars) their clues, a hot chocolate or hot apple cider for each member and a bag of home baked treats. These cookies are a hit with everyone.
Christmas treat bags for the teams include a dozen of my favorite holiday recipes. Every year I try to vary the cookies and treats but there's always a few must-haves. A couple of treats that I always include are my snowball cookies, otherwise known as Italian wedding cookies (get the recipe here) soft ginger snaps, whipped shortbread, Christmas Crack, butter tarts ( recipe here) and church window cookies (no bake). These are always and hit. Then I add a few extras of whatever I have, while trying to still surprise everyone.
Storing your cookies
These cookies will keep in an airtight container for 3 or 4 days or they can be frozen for up to 3 months. Just pull them out and let them thaw before serving. I always freeze mine because I make so many varieties of cookies for the holiday, I have to start my Christmas baking in November.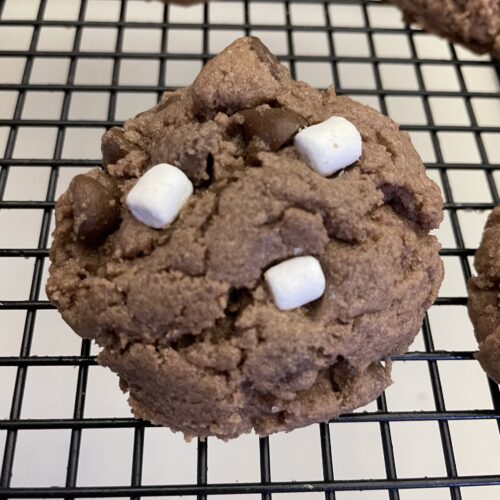 Hot Chocolate Cookies
These chewy chocolate cookies taste just like a warm cup of hot cocoa with the addition of hot chocolate mix in the dough
Ingredients
1

cup

butter

softened

1

cup

granulated sugar

2/3

cup

light brown sugar

2

large

eggs

1

tsp

vanilla

3

cups

all purpose flour

1

Tbsp

cocoa powder

1

tsp

salt

2

tsp

baking powder

1

tsp

baking soda

3/4

cup

hot chocolate mix

*regular not sugar free

1

cup

chocolate chips

1

cup

mini freeze dried marshmallows (best option)

* or mini marshmallows cut into small bits
Instructions
Beat the butter and sugars together in the bowl of your stand mixer until light and fluffy

add the eggs and vanilla and combine well

In a separate bowl, combine all of the dry ingredients (flour through hot chocolate mix) and stir to combine

Slowly add the dry ingredients to the butter/egg mixture and beat until blended

Add the chocolate chips and marshmallow bits then cover and chill for 10 minutes if you want a taller, less spread out cookie.

Line your baking sheet with parchment paper and spoon about 2 Tbsp of cookie dough onto the parchment separating by at least 2" per cookie

Bake for 9-11 minutes (or until lightly browned on the edges). For a chewier cookie bake for the shorter amount of time.

Cool on the baking sheet for 5 minutes before moving to a cooling rack to cool completely.
Notes
Note, this cookie dough is quite dry, don't worry, it still bakes into a nice cookie.  if you prefer a flatter cookie then skip the chilling process.