Raspberry Delight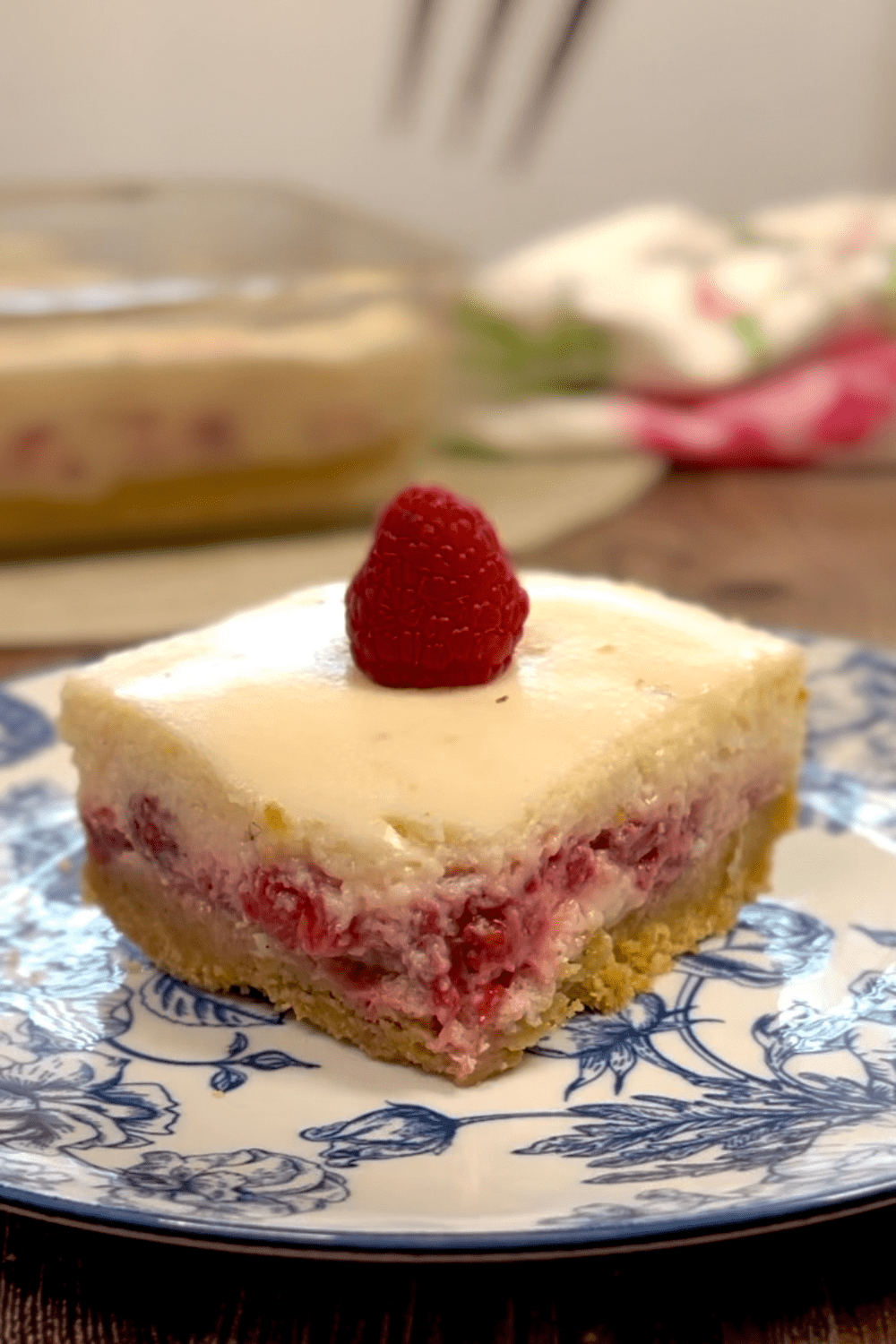 Are you craving a dessert that's bursting with fruity flavor, takes minimal effort to make, and is perfect for those warm summer days? Look no further than our Raspberry Delight No-Bake Squares with Marshmallows and Frozen Whipped Topping! This delightful treat combines the natural sweetness of raspberries with the creaminess of marshmallows and the convenience of a frozen whipped topping. It's a dessert that's sure to impress, and the best part? No baking required!
This recipe is a longtime family favorite that started with my husbands mom. She made it for him as a child and when we had kids, she made it for them. My mother-in-law had the biggest raspberry patch I had ever seen for a house in the city. It took up half of her back yard, no kidding here. My kids grew up always wanting to go to Granny's house to pick fresh raspberries in the summer. Lucky for us she only lived 5 minutes away. The kids would obviously eat as many berries as they put in their bowls, but isn't that what berry picking is about? The memories made and the tummy's filled while picking. Their Granny is sadly no longer with us, but over the years I began to make her Raspberry Delight recipe, to the delight of my family. So here it is…please enjoy. We sure do and always remember Granny when we do.
Recipes that bring us back to our childhood are so special and I am thankful that my kids and my husband grew up with this one. It's not difficult but it sure is tasty and fresh raspberries make it so tasty. Sweet yet every now and then you get a tart bite of fresh raspberry. It's a light dessert so it's perfect after a summertime barbeque. It's a great dessert to bring to a potluck as well, although I can pretty much guarantee you'll run out. Give them a try, you won't be disappointed.
Whether it's a summer picnic, a family gathering, or a cozy evening at home, these squares are sure to bring smiles to the faces of all who enjoy them.
Raspberry Delight
This no bake dessert is a summertime favorite with fresh raspberries folded into a fluffy marshmallow and cream layer over a graham crust.
Ingredients
For the Crust:
1½

cups

graham wafer crumbs

1

Tbsp

sugar

⅓

cup

butter, melted
For the Filling:
40

large

marshmallows

½

cup

milk

2

cups

Fresh raspberries (and their juice if any)

8

ounces

frozen whipped topping (cool whip), thawed

(almost 1 1L container)

1

tbsp

graham crumbs, just for decoration
Instructions
For the Crust:
Melt

⅓ cup butter, melted

in a microwave safe bowl, set aside

in a medium bowl combine,

1½ cups graham wafer crumbs

, and

1 Tbsp sugar

.

Drizzle the melted butter into the graham crumb and sugar mixture and mix until it resemble a coarse wet sand, then transfer to your 8×8" pan and spread it evenly and press to form a crust.
For the filling:
In a large microwave safe bowl (or on stovetop in a large saucepan), combine the

40 large marshmallows

and the

½ cup milk

. Melt in microwave in 30 second increments until melted and stir to combine.

add 1 cup of the whipped topping which has been thawed

Add the

2 cups Fresh raspberries (and their juice if any)

to the marshmallow and whipped topping mixture and stir everything together, then transfer to the 8 x 8 " pan and spread evenly over the prepared crust. Smooth the top then sprinkle

1 tbsp graham crumbs, just for decoration

on the top

Cover with plastic wrap and place in the refrigerator to chill and set for at least 3 hours. Cut into squares and serve when ready. Garnish with a few fresh raspberries if you have any left.
Notes
This is an old family recipe that my mother in law used to make, then I started making if for my kids, they absolutely love it.  If you are not a fan of frozen whipped topping I have found that you can substitute it for whipped real whipping cream 1:1.  It does affect the texture a bit.  I often will do a 50:50 ratio of real whipped cream and frozen whipped topping.  It works perfectly as well.