Easy Jalapeno Mac and Cheese Recipe
Jalapeno Mac and cheese is taking the culinary world by storm. With its zesty heat and tantalizing flavor, the jalapeño adds a bold twist to this timeless classic. Say hello to Jalapeño Mac and Cheese—a dish that combines creamy indulgence with a fiery kick, creating a culinary experience that's both comforting and exciting. The best thing about it is that you can control just how spicy you want your mac and cheese to be. In my house, we like it with a fairly good kick of spice. But do what works for you. I suggest either charring or roasting the jalapenos before adding them to the sauce. This also mellows them a bit.
I have been making scratch mac & cheese since my kids were very little. It really is a simple dish to add to your repertoire and it is easily customizable. Depending on what cheeses I have in my fridge my mac & cheese will reflect that. I start with the basic cheddar cheese version, but I have been known to add, cream cheese, goat cheese, parmesan, smoked cheddar, literally whatever I have, is what I use. It's a great way to use up all of those "ends" of cheese hiding in your deli drawer.
This post may contain links to products, as an Amazon Associate I may earn from qualifying purchases with no extra cost to you.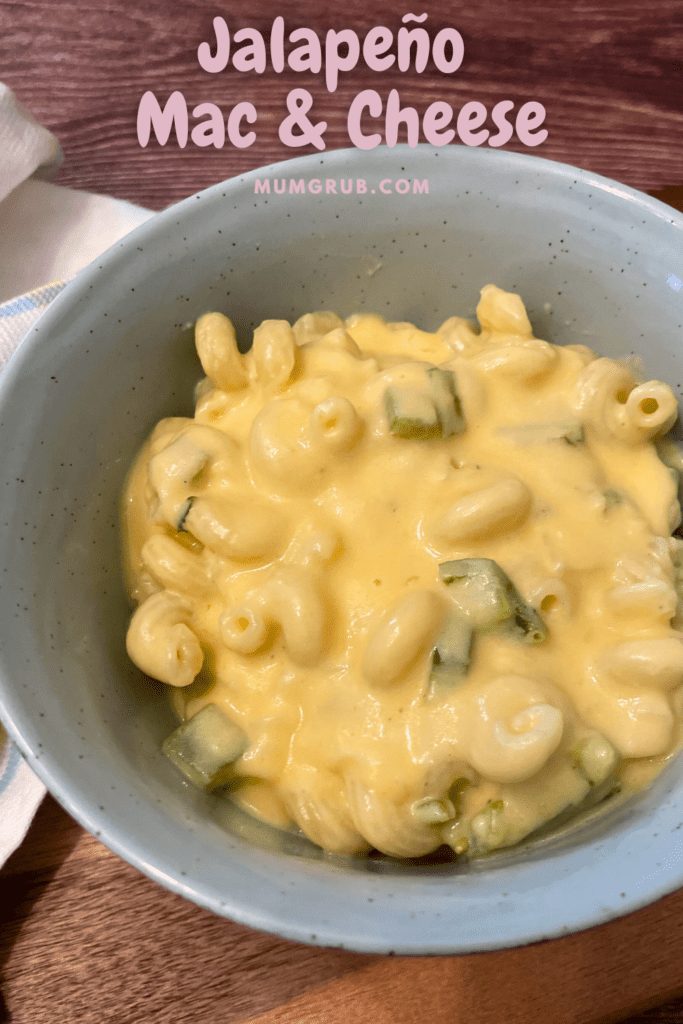 For this jalapeno mac & cheese I try and keep to traditional cheeses. It is made with sharp cheddar cheese, monterey jack cheese, cream, whole milk, jalapeno, butter, flour for a roux to thicken, and optionally hot sauce for some extra kick if you like it and seasonings. Then the creamy sauce is all tossed with elbow or your favorite short pasta (I like cavatappi or scoobie doo). When I add a crunchy topping I always use Panko breadcrumbs like the ones below. If you can't find them in your neighborhood store you can get them on Amazon.
The fusion of jalapeño peppers with mac & cheese brings an entirely new dimension to this beloved dish. Jalapeños, known for their vibrant green color and moderate heat, provide a subtle kick that elevates the creamy macaroni. The marriage of rich cheese and spicy peppers creates a harmonious contrast that keeps your taste buds dancing.
Ingredients:
3 cups elbow macaroni or your favorite short pasta noodle (I actually prefer scoobi doo noodles) also known as Cavatappi.
3 cups shredded cheddar cheese (or a blend of your favorite cheeses)
1 1/2 cups shredded monterey jack cheese
1 1/2 cup milk (whole milk preferred, but you can use other).
1/2 cup heavy cream
6 tablespoons butter
6 tablespoons all-purpose flour
4-6 jalapeño peppers charred, peeled and finely diced (adjust based on your heat preference)
3/4 cup panko breadcrumbs with a little butter (1 tsp)
Salt and pepper to taste
Hot Sauce *optional
Looking for more comfort food? Try my Cheesy Tortellini Bake recipe
Instructions for Jalapeno Mac and Cheese:
Cook the macaroni according to package instructions. Drain and set aside.
Char over your gas burner or alternatively, roast the jalapenos until they are dark brown, let them sweat in a plastic bag then remove the outer skin and chop (deseed and devein, if you want a mild mac & cheese).
In a deep saucepan, melt the butter over medium heat.
Stir in the flour to create a roux, cooking for about 2 minutes until it's a light golden color.
Gradually add the milk and cream, whisking constantly to avoid lumps. Allow the sauce to thicken.
Reduce the heat and gradually add the shredded cheeses, stirring until fully melted and smooth.
Season the cheese sauce with salt and pepper to taste.
Combine the cooked macaroni with the cheese sauce, ensuring the macaroni is evenly coated.
Add the chopped jalapeno peppers.
Transfer the mixture to a baking dish. Sprinkle prepared breadcrumbs on top for a crunchy topping (if using).
Bake in a preheated oven at 350°F (175°C) for about 20 minutes or until the top is golden and the cheese is bubbly.
Let it cool slightly before serving.
What makes Jalapeño Mac and Cheese truly special is its ability to cater to a wide range of palates. The heat from the jalapeños can be adjusted to suit your preference, making it accessible to both spice enthusiasts and those who prefer milder flavors. The combination of creamy, cheesy goodness with the fiery kick of jalapeños offers a sensory experience that's comforting and exhilarating all at once.
Jalapeño Mac and Cheese is more than just a dish—it's a symphony of flavors that strikes a perfect balance between tradition and innovation. This spicy twist on a beloved classic demonstrates the versatility of comfort food, reminding us that culinary creativity knows no bounds. Whether you're looking to impress your dinner guests or simply indulge in a comforting treat with a kick, Jalapeño Mac and Cheese is sure to satisfy both your cravings and your culinary curiosity.
This post contains links to products, as an amazon associate, I may earn from qualifying purchases at no extra cost to you.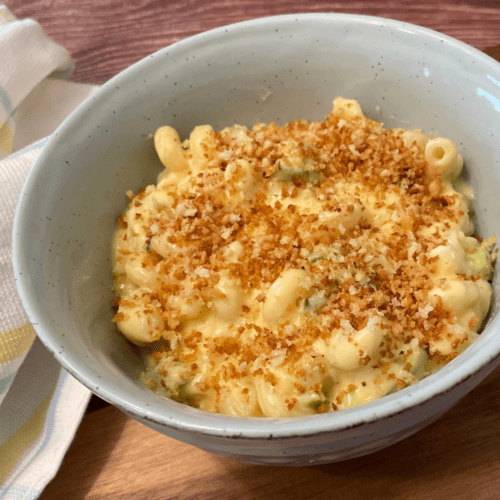 Jalapeno Mac & Cheese
A twist on the classic Mac & Cheese that gives it a bit of heat and a Mexican vibe.
Ingredients
3

cups

elbow macaroni or pasta of choice

* I prefer scoobie doo

3

cups

shredded sharp cheddar cheese

1½

cups

monterey jack cheese

* or any other cheese you have on hand will work

1½

cups

whole milk

½

cup

heavy cream

6

Tbsp

butter

6

Tbsp

all purpose flour

4-6

jalapenos (charred, skinned and diced)

*see notes

¾

cup

panko breadcrumbs

salt & pepper to taste

2-3

dashes

Hot sauce *optional
Instructions
Bring a large pot of salted water to a boil.Add the pasta and cook according to the package instructions until al dente.Drain the pasta and set aside.

Wash the jalapeño peppers then Char the jalapenos on the flame of your gas stove or broil them in your oven. When blackened, place in a ziploc bag to sweat, then scrape off the skin. Finely dice the jalapeños. Adjust the quantity to your preferred level of spiciness. Remove seeds and membranes if you want to keep it mild. Set aside.
For the Sauce:
In a medium saucepan, melt the butter over medium heat.

Stir in the flour to create a roux. Cook and stir for about 1-2 minutes until the mixture is smooth and slightly golden in color.

Gradually whisk in the milk and cream to avoid lumps. Continue cooking and whisking until the sauce thickens, about 5-7 minutes.

Reduce the heat to low and gradually add the shredded cheddar and Monterey Jack cheeses, stirring until melted and smooth.

Stir in the prepared and diced jalapeños. Season the sauce with salt and pepper to taste. If you like a bit more mexican flavor and heat, add a few dashes of your favorite hot sauce at this point.

Add the cooked pasta to the cheese sauce and gently stir to coat the pasta evenly with the sauce.

Transfer to a greased oven-proof baking dish

In a small bowl, combine the breadcrumbs with a drizzle of melted butter to moisten them slightly.

Sprinkle the breadcrumb mixture evenly over the mac and cheese.

Place the baking dish in the preheated 350℉ oven and bake for about 20-25 minutes or until the top is golden brown and the cheese is bubbly.Once done, remove from the oven and let it cool for a few minutes before serving.
Notes
Not everyone likes a baked mac and cheese so that step is optional.  If you want some crunch but not a baked mac and cheese then place the panko crumbs and butter in a small frying pan on your stovetop and cook gently over medium heat until they toast to your desired doneness.  I like a dark golden brown, but do as you like.   If you prefer no crunchy topping, then I suggest a bit of extra cheese sprinkled onto the mac and cheese before baking.  If you're not baking it then, stir a bit of extra cheese if you like, but it's totally optional.
Recommended Equipment:
My favourite pot to use for making mac and cheese is a enamel coated cast iron dutch oven:
These little ramekins are the perfect size for individual baked mac and cheese: