Mahi Mahi with Lemon Orzo and garlic sauce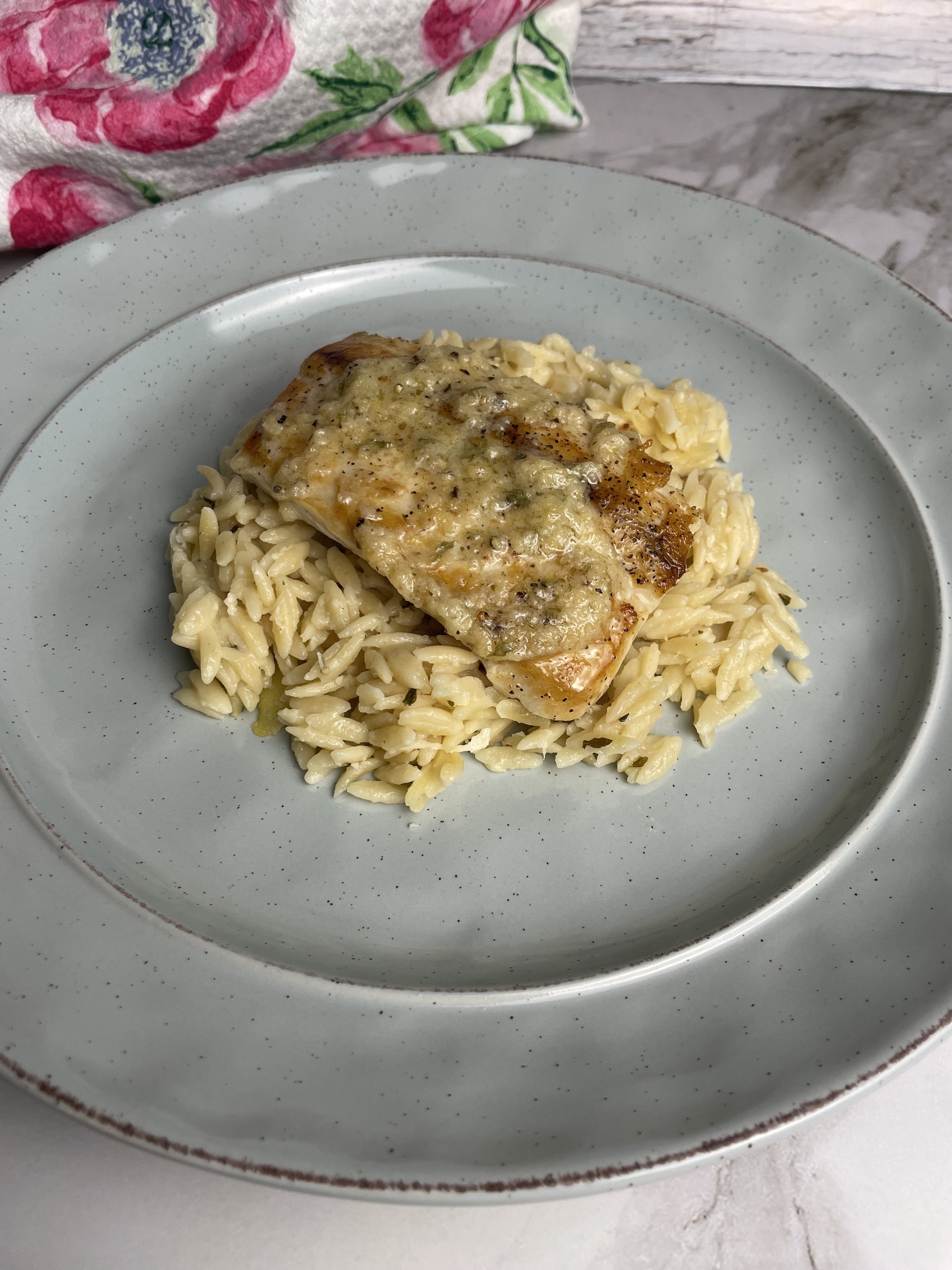 There's something magical about combining the fresh flavors of ocean-caught Mahi Mahi with the citrusy zing of lemon and the aromatic allure of garlic. This pan fried Mahi Mahi with Lemon orzo is a perfect weeknight dinner. I don't know about you but I am a landlocked ocean lover. In order to get fresh ocean caught Mahi Mahi I have to get on a plane. My family and I have gone to Maui many times and on one trip a few years ago, we did just that. Had fresh caught (by my husband) Mahi Mahi. While it was delicious and not to be missed if you have the opportunity. A flash frozen Mahi Mahi fillet is just as delightful. I buy mine at Costco, but I am sure many other big box stores carry them as well. Below is my Mahi Mahi recipe that marries the delicate taste of pan-fried Mahi Mahi with a luscious lemon garlic sauce, accompanied by a side of zesty Lemon Orzo. This simple yet sophisticated dish will delight even the non fish lovers in your home.
This post may contain links to products, as an Amazon Associate, I may earn from qualifying purchases with no additional cost to you.
Mahi Mahi is known by many names depending on where you find it. It's called Mahi Mahi in Hawaii, or dolphinfish. It is also widely called Dorado. It is found in warm tropical or subtropical waters. It is a mild tasting fish, similar to Halibut in how it flakes but is also fairly dense almost "meaty". If you cannot find Mahi Mahi then either Halibut or swordfish would be perfect substitutions.
Mahi mahi is low in fat and calories and high in protein so if you're looking for a fish that is all of those, then Mahi mahi is perfect. It's meaty yet sweet flesh is perfect for delicate flavors. This is why lemon and garlic pair so well with it. A fresh fruity salsa would also be a great accompaniment.
We love fish and lemon, we also love pasta and lemon….so why not fish, pasta and lemon together? Perfect I thought. So here it is, my Mahi Mahi with a lemon garlic sauce served alongside a Lemon orzo. It sounds complicated but I promise, it is not. There are few ingredients and it all comes together in under half an hour.
Buying Mahi mahi:
Of course the best quality Mahi mahi is caught fresh. Like I mentioned previously, my family and I did catch our own Mahi mahi, but that entailed a long day trip aboard a fishing boat and great expense. It's much easier to buy flash frozen Mahi mahi and way less expensive. If you do buy fresh, then look for a fish that has bright skin colors and firm, pinkish meat.
Helpful Hints:
purchase either very fresh or flash-frozen, high quality mahi mahi.
Try and get mahi portions that are about 4-6 oz each, with at least 1-inch thickness. If the portions are too thin or too small, they risk overcooking and becoming chalky.
Remember to pat dry any excess moisture from all sides of the fish; this is very important to ensure you get a good sear (brown color), paper towels work well to do this.
When pan searing Mahi (or any fish) make sure your cooking oil is very hot [like, sizzling] before adding the fish. This allows for quick and even browning without the risk of overcooking.
Once the fish is in pan, do not move it around. Let it sit and brown for 3 minutes before flipping it. (less time if your fillet is thin). I even press the fish gently once i place it in the pan, to ensure the entire fillet is in contact with the pan.
Preheat your oven ahead of time so that it's hot and ready when you transfer the mahi mahi from stovetop to oven.
Use a fish spatula. If you don't have one then use a regular thin spatula however I do recommend getting a fish spatula, it is quite versatile. Here's the one that I have.
Pan Fried Lemon Garlic Mahi Mahi with Lemon Orzo
This quick weeknight meal takes only a few minutes and is delicious with a garlicky lemon topping over pan seared Mahi Mahi. A side of lemon orzo completes the meal
Equipment
1 small saucepan

1 med-large saucepan

1 small pot
Ingredients
For the Lemon Orzo
1

cup

Orzo (pasta)

2½

cups

Chicken or Vegetable Broth

2-3

strips

lemon zest (reserve the lemon for juicing later)

*use a vegetable peeler

½

tsp

dried Oregano

1

Tbsp

butter

½

tsp

salt

½

fresh

Lemon, juiced

¼

cup

Shredded Parmesan cheese (Optional)
For the Mahi Mahi
2

4 oz

Mahi Mahi fillets

*about 1" thick each

Kosher Salt & Fresh ground Black pepper

*to season fish

2

Tbsp

olive oil
For the Lemon Garlic Sauce
2

Tbsp

butter

4

lg

cloves of garlic, minced

½

tsp

dried parsley

¼

tsp

*Each, Kosher Salt & Freshly ground black pepper

1

Tbsp

Lemon juice, fresh

*from the other 1/2 lemon
Instructions
Preheat your oven to 400℉ with a rack in the middle position.

Pat dry the Mahi Mahi fillets then season with the Kosher Salt & and Fresh ground Black pepper, set aside until the Orzo and sauce are nearly done as the fish takes only a few minutes to cook.

In a small pot add

1 cup Orzo (pasta)

,

2½ cups Chicken or Vegetable Broth

,

½ tsp dried Oregano

and

2-3 strips lemon zest (reserve the lemon for juicing later)

and bring to the boil

Once boiling, reduce the heat and let simmer uncovered for 13-15 minutes until the Orzo is cooked and tender. (while the orzo is cooking, make the sauce).

Remove from heat and stir in the

1 Tbsp butter

and

½ tsp salt

then let it sit 5 minutes. While it is sitting, prepare the garlic sauce.

when 5 minutes is up, add the juice from

½ fresh Lemon, juiced

and the ¼ cup Shredded Parmesan cheese, if using.
For the Garlic Sauce
Combine all of the ingredients in a small saucepan as below

2 Tbsp butter

,

4 lg cloves of garlic, minced

,

½ tsp dried parsley

,

¼ tsp *Each, Kosher Salt & Freshly ground black pepper

,

1 Tbsp Lemon juice, fresh

ly squeezed. Put over low heat to gently melt butter and combine the sauce, set aside once it has melted and combined.
To Cook the Mahi Mahi
In an oven proof pan, heat the olive oil until it is sizzling hot, place the seasoned Mahi Mahi fillets in the pan and let them cook (without moving them around), for 3 minutes until golden brown then carefully flip the fillets over and immediately place the entire pan in the preheated oven.

Bake the fish for 3-5 minutes (depending on the thickness of the fillets), until slightly golden on top

Remove the fish from the oven once done and spoon the reheated lemon garlic sauce over the fillets.

Stir the Orzo and scoop a portion on each plate, then top with a Mahi Mahi fillet and serve.

I like to serve this meal with a fresh salad.
Notes
I don't often post meal recipes but this combination of lemon and garlic with the Mahi Mahi is perfect so I decided to combine them.  I also have them as separate recipes if you want to try either one with something different.