Lemon Orzo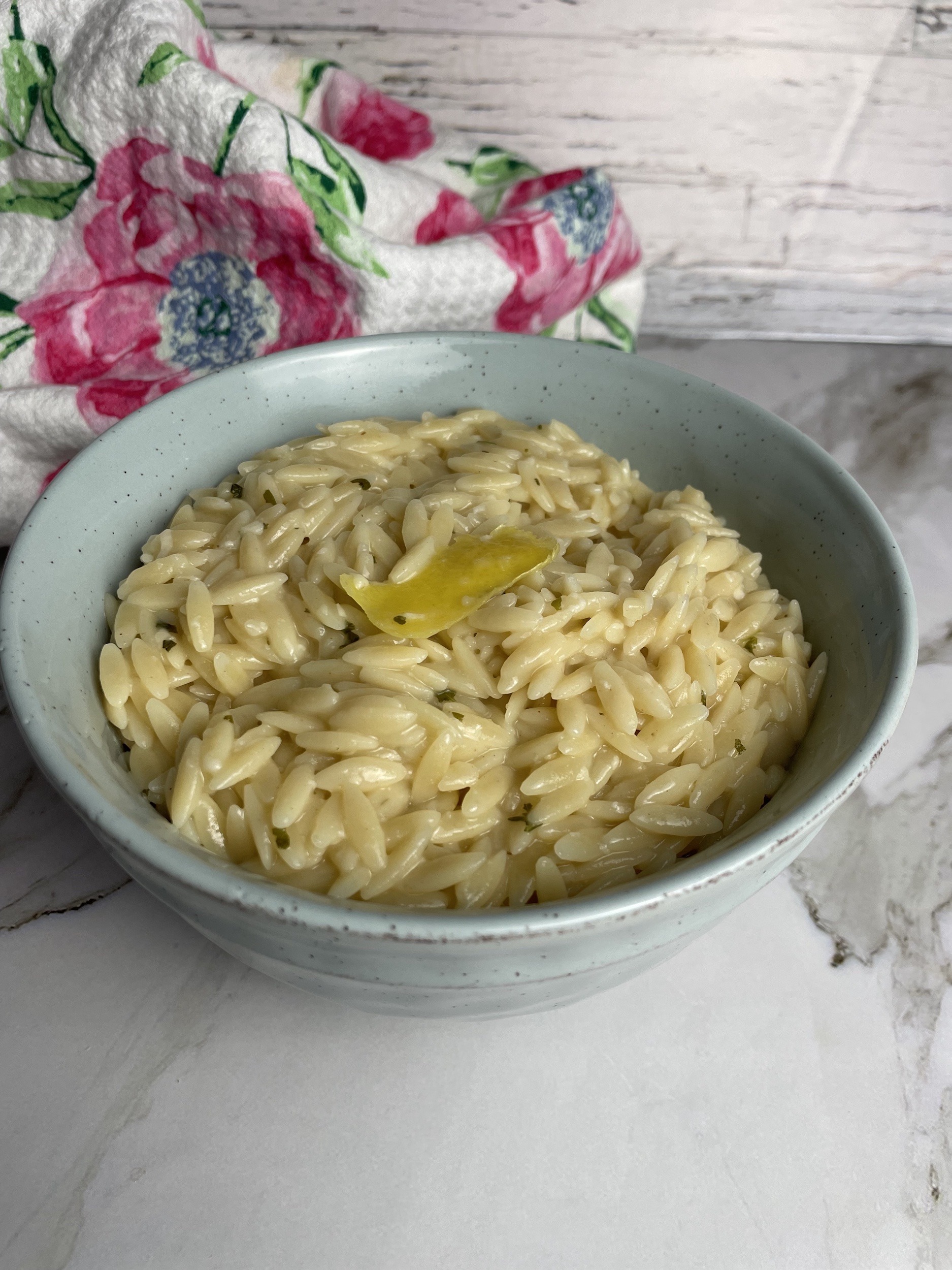 This tiny pasta, shaped like rice, is a culinary gem that adds a burst of citrusy goodness to a variety of dishes. Orzo is a type of pasta that's often made from semolina flour and in this dish it is enriched with the tangy essence of lemon. Its small, rice-like shape not only makes it visually appealing but also ensures a quick and even cooking process. This Lemon orzo adds a refreshing twist to the dish, making it a perfect choice for many dishes.
Cooking lemon orzo is a breeze, making it an ideal choice for both quick weeknight dinners and elaborate feasts. The lemony aroma in this version, will waft through your kitchen, signaling the deliciousness to come.
Lemon orzo's versatility shines in its ability to complement a wide array of ingredients. Pair it with fish, grilled chicken, shrimp, or vegetables for a light and wholesome meal. The lemony notes make it an excellent side dish for fish dishes, adding a zingy contrast to the richness of most fish.
Lemon orzo is a culinary delight that adds a burst of sunshine to your plate. With its versatile nature, quick cooking time, and refreshing flavor, orzo is a must-have ingredient in any kitchen. Whether you're looking to create a light summer salad, a comforting soup, or an elegant side dish, orzo has the power to transform your meals into memorable dining experiences.
What pairs well with Lemon Orzo?
If you love lemon and especially lemon flavored pasta such as orzo, why not pair it with a great protein for a full meal.
Serve this lemon orzo with a nice piece of pan seared fish, such as Mahi Mahi. You can find my recipe here.
Lemon Orzo also pairs well with traditional Greek flavors, so it would be a great addition to Souvlaki or lamb.
Serve it chilled with some cooked veggies for a nice pasta salad.
Serve it as a side to grilled or pan fried Chicken.
The bottom line is this lemon orzo goes well with just about any protein or vegetable. Let your imagination go and see where you end up.
Lemon Orzo
A tender short pasta that is a perfect side dish and easy to make
Ingredients
1

cup

orzo pasta

2½

cups

chicken or vegetable broth

½

tsp

dried oregano

½

lemon, juice AND strips of zest

¼

tsp

each, Kosher Salt & Freshly ground black pepper

¼

cup

shredded parmesan cheese (optional)

½

Tbsp

butter

1

tsp

dried or fresh parsley, *optional
Instructions
Using a vegetable peeler, peel off 2-3 strips of lemon zest from the lemon

In a pot combine,

1 cup orzo pasta

,

2½ cups chicken or vegetable broth

,

½ tsp dried oregano

and 2-3 strips of lemon zest

Bring the mixture to a boil, then reduce the heat to a simmer and continue to cook for 13-15 minutes until the orzo is tender. Remove from the heat and add the

½ Tbsp butter

and the parmesan cheese if using, stir. Taste for seasoning and add salt and pepper. Set aside for 5 minutes.

After 5 minutes, juice half a lemon over the orzo and stir to combine. Add in the parsley if using, stir to combine, then serve.