Cranberry Orange Cookies
The holiday season is the perfect time to indulge in delicious treats that capture the warmth and coziness of the season. What better way to spread some holiday cheer than by baking a batch of Cranberry Orange Cookies? These slice and Bake Shortbread-ish Cookies are super easy and so delicious. These delightful cookies combine the rich, buttery goodness of shortbread with the zesty, tangy flavors of cranberries and oranges. They are not only a treat for your taste buds but also a joy to make.
If the Holidays are a busy time for you (like they are for me) it's nice to have something on hand in the fridge or freezer that you can serve on short notice. These slice and bake Cranberry Orange cookies fit the bill on that front. You can slice and bake just a few or the entire batch, it's up to you. What I like to do is chill the dough for at least an hour, then slice them, bake a few (to make sure they're as delicious as I remember….lol) and freeze the rest. The best part about cutting them before freezing them is that you don't have to thaw the entire batch if you don't need that many cookies. This is why I suggest making two logs instead of one long one. You can thaw an entire 9″ log, cut and just take what you need, or make one large 18″ log. Whatever works for you.
I do an annual Christmas Scavenger hunt (I have mentioned this before) and one of the things everyone looks forward to is the bag of baked goodies they get for each carload of participants. Every year I try and put a few different cookies or treats in the bag so that there is an element of surprise for everyone.
This slice and bake Cranberry Orange cookie is one that I have made before but it hasn't been in the goodie bag for a number of years. It will be this year! Because I make a huge variety of goodies I need to get started in early November so I am not overwhelmed come Christmas time. This recipe is one that makes my life so much easier closer to Christmas.
If you want some more Christmas cookie Ideas then try my hot chocolate cookies or my Snowball cookies they are delightful.
What you need for Cranberry Orange Cookies:
1 cup unsalted butter, softened
1/2 cup granulated sugar
1 tablespoon orange zest
1 1/2 cups all-purpose flour
1 1/2 cups fresh cranberries, finely chopped
1/3 cup decorating or sanding sugar (for rolling) Optional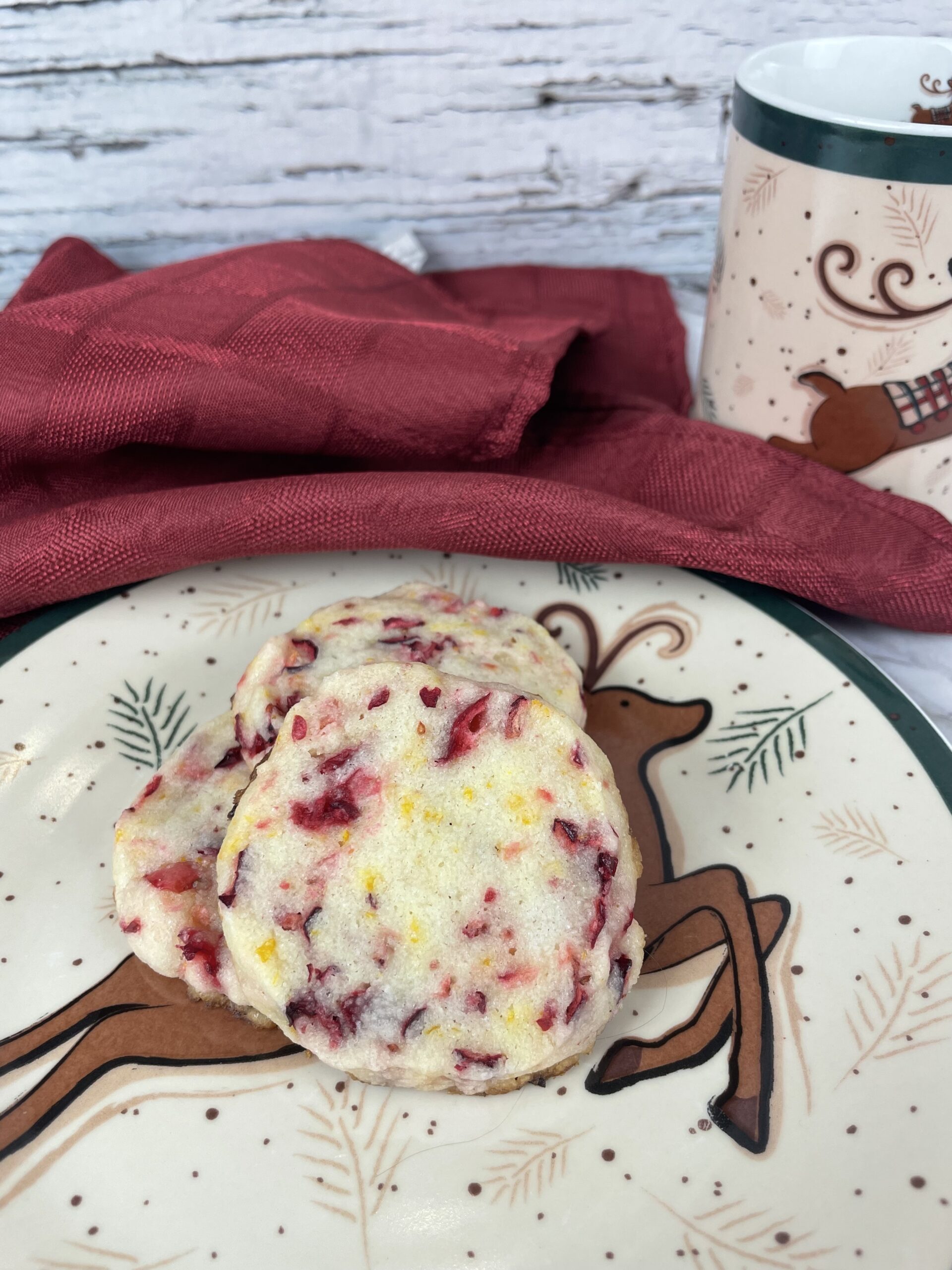 Cranberry Orange Refrigerator cookies
These tender, delicious and beautiful slice and bake cookies are a real lifesaver around the holidays.
Ingredients
1

cup

salted butter, softened

*if you use unsalted butter add ½ tsp salt when you add the flour

½

cup

granulated sugar

1½

cups

all-purpose flour

1

Tbsp

orange zest (about 1 large orange)

*a little extra won't hurt the recipe but don't use less than 1 Tbsp

1½

cups

fresh cranberries, chopped small

decorating or sanding sugar (optional)

*for rolling the log before cooking
Instructions
In a medium mixing bowl mix together the butter and sugar with a hand mixer. Beat for 3 minutes or until the mixture is light and fluffy.

Add the flour (and salt if using unsalted butter). Beat the dry ingredients into the butter and sugar mixture on low speed, until well combined.

Using a wooden spoon or spatula, add the chopped cranberries and orange zest and stir them in until well combined.

Lay out a piece of parchment paper and put half of the dough in the middle then spread it to create a log about 9" long. Roll parchment around the dough then wrap the log in plastic wrap. Repeat for the remaining dough.

Place the 2 logs into the refrigerator to chill for one hour prior to cutting and baking. Preheat the oven to 350℉ if you are going to bake them now.

If you are not baking them right away, the logs can be frozen for up to 3 months. * see notes

If you want a more spectacular presentation you can roll the log in decorator sugar (white) or sanding sugar (white) just before baking for an extra touch of magic! Completely optional.

If you are baking them, then once the dough is chilled, using a sharp knife, slice the log into 3/8" slices and place on a parchment lined baking sheet and bake in oven preheated to 350℉ for 12 minutes or until the cookies begin to turn golden brown around the bottom edge.

Remove from oven and let them cool on the sheet pan for 5 minutes before moving to a cooling rack to cool completely.
Notes
These are easy to make, taste delicious and a great time saver during the busy holiday season.
If you freeze them I suggest cutting them prior to freezing the logs, then you can just take out what you need when you want to bake less than an entire log.  
Roll in decorator sugar just before baking (not before freezing)