Eatmore Bars (Gluten Free version)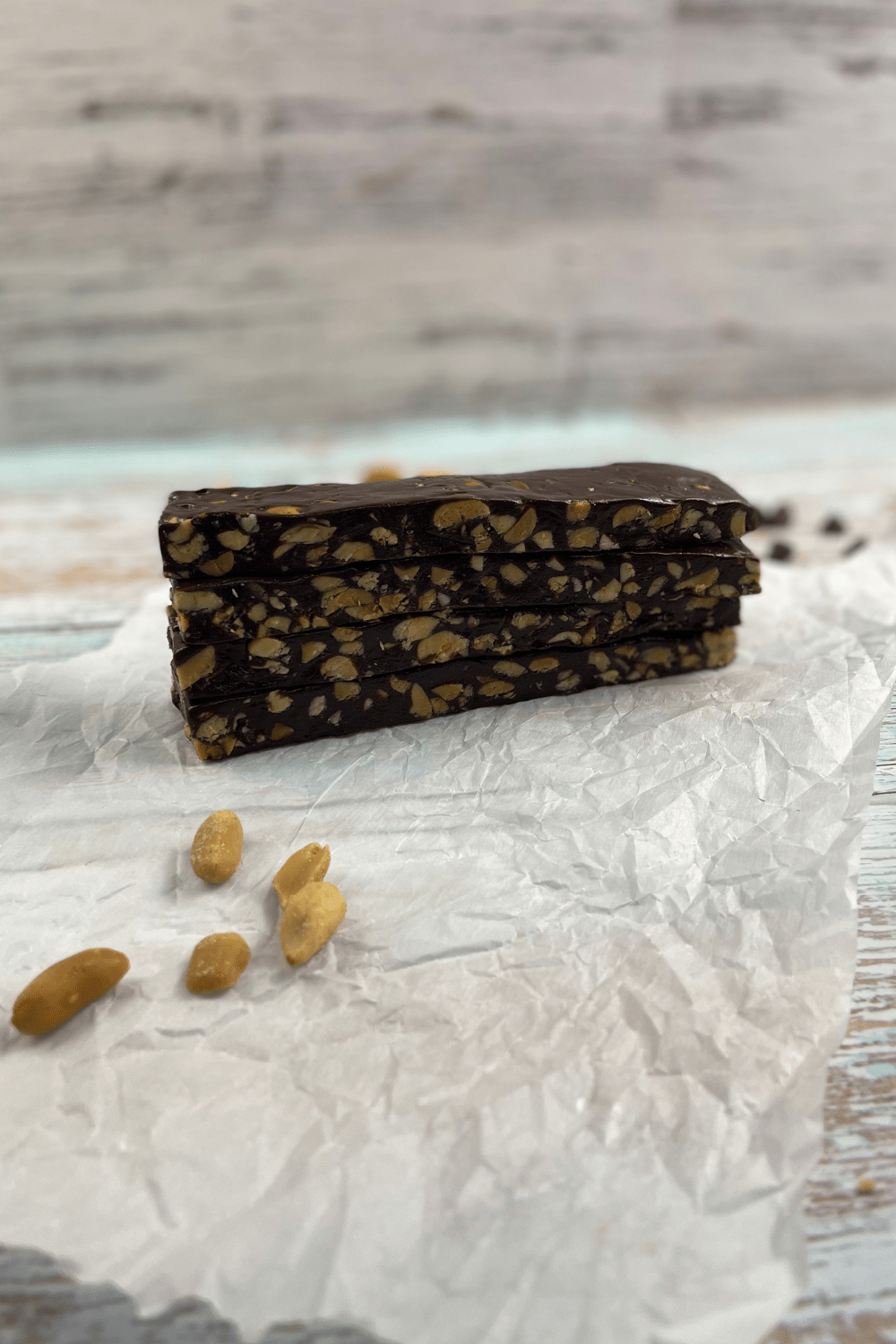 Eatmore Bars have been a beloved snack in Canada for over 80 years, and for good reason. They are made with a combination of peanuts, oats and chocolate bound together with a sweet and sticky mixture of corn syrup peanut butter. The result is a chewy and satisfying bar that is packed with protein, fiber, and healthy fats.
Homemade Eatmore Bars taste just like the classic Canadian chocolate bar. They're chewy and filled with peanuts and oats and a hint of chocolate flavor. You may have seen my classic version of the Eatmore Bars but this recipe is made without the oats making it gluten free!
This post may contain links to products, as an Amazon Associate, I may earn from qualifying purchases at no extra cost to you.
Whether you just want to try making your own candy bar, or you're living somewhere you can't buy the real deal (my daughter goes to school overseas and is always surprised by the difference in snack selection), homemade Eatmore bars are the perfect treat.
The Eatmore bars only need four ingredients: chocolate chips, corn syrup, peanuts and peanut butter. This oat-free version is actually closer to the store bought Eatmore bars but I usually add oats for a bit of fibre.
Equipment
you don't need much for equipment for this recipe:
saucepan
mixing spoon
A good pan for making squares
I love my pan that I use for almost any square that I make. I have linked to it below if you want to see what I use.
Eatmore Bars (Gluten Free)
This Oat free recipe for a more traditional EATMORE Candy Bar
Equipment
1 medium saucepan

1 9×13 rectangular pan
Ingredients
1

cup

White corn syrup

1½

cups

dark chocolate chips

¾

cup

peanut butter

2

cups

peanuts (salted or unsalted – your preference)
Instructions
Gather and measure out all of your ingredients before you start. This recipe goes really quickly.

In the saucepan, add the corn syrup and heat until just bubbling. Reduce heat

Add the chocolate chips and stir to combine until the chips are melted

Add in the peanut butter and stir again to combine

Add the peanuts and stir into the mixture, then once coated transfer the mixture into your parchment lined pan.

Spread out to edges until an even thickness is achieved. Let cool minimum one hour, overnight is better.

Cut into 6 even slices from the narrow end of the pan. Then cut in half along the long side. This will yield 12 bars.
Notes
These are a family favorite.   A copycat version of the Classic Bar.  With NO oats.  If you want to add oats you can, I have a different recipe for them with oats.  Feel free to experiment.  These ones are the closest I have made to the candy bar in the classic yellow and red wrapper.