Thumbprint Cookies
The holiday season is a time for joy, laughter, and the delightful aroma of freshly baked treats filling our homes. One beloved tradition that brings families and friends together in the spirit of merriment is the art of baking Christmas cookies. Among the vast array of festive delights, Christmas Thumbprint Cookies stand out as both visually appealing and delicious.
These cookies are always part of my Scavenger hunt treat bags as well as on my Holiday Dessert table. They get eaten up very quickly. If you would like more Christmas recipes try these:
1.Snowball Cookies (also known as Italian wedding Cookies)
4.Easy Christmas Nougat (not really a cookie but delicious for the holidays)
5.Cocktail Crisps – a spicy cracker type cookie for the non sweet lover in your family
6.Caramels – a delicious soft chewy caramel, with flaked salt, they're divine!
Thumbprint cookies, also known as "thumbprint" or "thumbprint jam" cookies, have a rich history rooted in various cultural and culinary traditions. These cookies are believed to have originated in Sweden, where they are known as "Hallongrotta," meaning "raspberry cave." The name reflects the characteristic thumbprint indentation filled with fruit preserves or jam. Over time, this delightful treat has found its way into kitchens around the world, especially during the holiday season.
Tips for making Thumbprint cookies:
Creaming the Butter and Sugar: In a large bowl, cream together the softened butter and sugar until light and fluffy. This step is crucial for achieving the perfect texture in your cookies.
Adding Vanilla Extract: Incorporate the vanilla extract into the butter and sugar mixture, enhancing the flavor profile of your cookies with a touch of warmth.
Sifting the Dry Ingredients: In a separate bowl, sift together the all-purpose flour and salt. Gradually add this dry mixture to the butter and sugar mixture, stirring until a soft dough forms.
Chilling the Dough: Cover the dough and refrigerate it for at least 30 minutes. Chilled dough is easier to handle and helps the cookies maintain their shape during baking. Chilling is optional but it helps the cookies from puffing up too much.
Shaping and Indenting: Preheat your oven to 350°F (175°C). Shape the dough into small balls and place them on a baking sheet. After rolling in the nuts ceate a small indentation in the center of each cookie using your thumb or the back of a teaspoon (or a thimble)
Baking to Perfection: Bake the cookies for 5 minutes and re-dent them if they need it, bake a further 12-15 minutes or until the edges are lightly golden. Keep an eye on them to prevent over-baking.
Filling the Thumbprints: Spoon a small amount of your favorite fruit preserves or jam into each indentation. This is where you can get creative and mix and match flavors to suit your taste.
Cooling and Enjoying: Allow the cookies to cool on the baking sheet for a few minutes before transferring them to a wire rack to cool completely. Once cooled, these festive treats are ready to be enjoyed.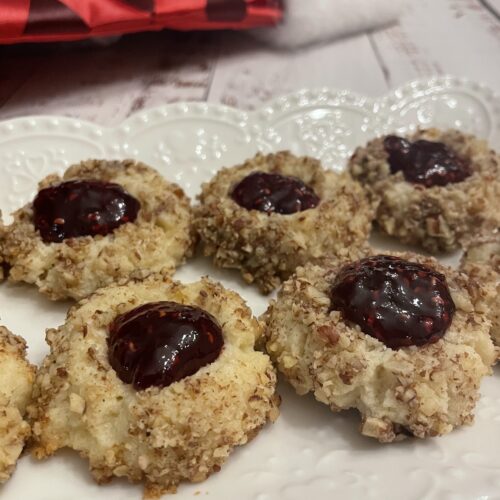 Christmas Thumbprint Cookies
Sweet and buttery jam filled cookies coated in chopped nuts. A great Christmas cookie
Ingredients
½

cup

Butter, softened

¼

cup

sugar

1

lg

egg, separated

1

tsp

vanilla extract

1

cup

all-purpose flour, sifted

½

cup

finely chopped walnuts, pecans or almonds

* I use pecans

¼

cup

jam of choice
Instructions
In a medium bowl, or stand mixer, cream butter

Once the butter is lighter, gradually add the sugar, mix to combine

Add the well beaten egg yolk, vanilla extract and flour, mix together on low

Shape the dough into 1" balls and set aside (chill for 15-30 minutes)

Dip each ball first into the egg white, then roll in the chopped nuts

place on a parchment lined sheet pan (or ungreased cookie sheet) and make an indent in each one with your thumb or a thimble (if you have one).

Bake in a 350℉ oven for 5 minutes, remove the tray and dent the cookies again (as they puff up when cooking)

Bake for an additional 12-15 minutes until cooked and golden on the bottom edges

Fill with jam while still hot
Notes
These cookies are tender and delicious.  Fill them with your favorite jam and enjoy!
This recipe easily doubles or triples 
Christmas Thumbprint Cookies are not only a delightful addition to your holiday cookie platter but also a wonderful way to create lasting memories with loved ones. The simplicity of the recipe and the versatility of fillings make these cookies a festive favorite for bakers of all skill levels. So, gather your ingredients, preheat your oven, and let the sweet aroma of Christmas Thumbprint Cookies fill your home with holiday cheer. Happy baking!
How to store:
Allow the thumbprint cookies to cool completely before storage. Store the cookies in an airtight container for up to one week at room temperature.
To Freeze:
Freeze for at least a few hours or up to overnight on a tray. Once frozen, transfer the cookies to zip-top bags or another freezer-safe container. Freeze for up to two months and thaw at room temperature.